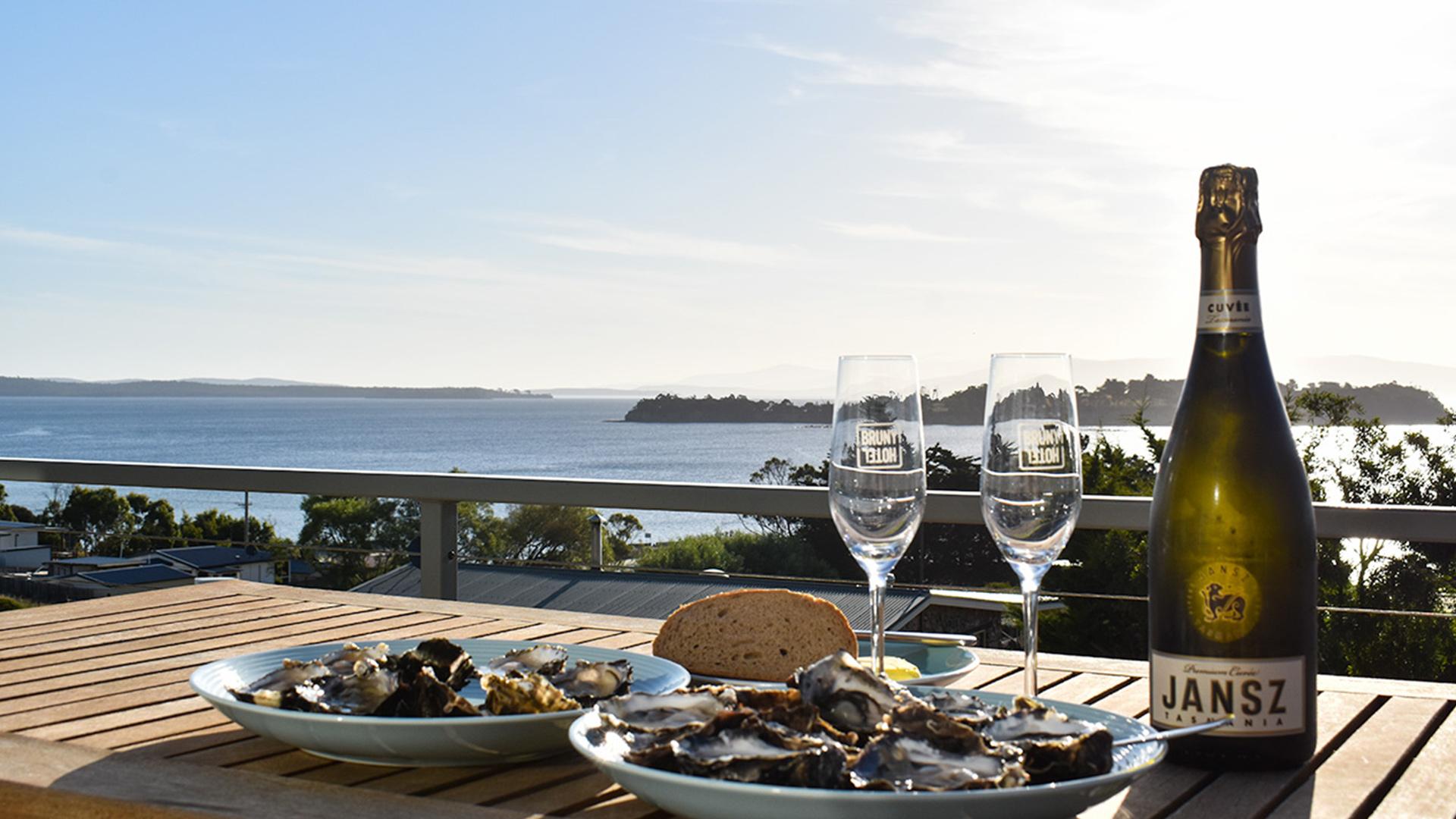 Last Chance 2021: Hobart 5-Day Luxury Small-Group Tour with Gourmet Experiences, Wine Tastings & Heritage Stay

In a delicious partnership with Gourmet Traveller, discover the unique flavours of Tasmania on a five-day luxury small-group gourmet tour (max. eight travellers). Travelling in a private vehicle, accompanied by an expert local driver-guide, take in the sandstone beauty of Hobart and enjoy four nights of heritage accommodation, exclusive vineyard tours, private tastings and gourmet dining experiences at some of the island's most creative projects.
Take a tour of the state's top sites and tipples: contemplate the collection at MONA art museum before a behind-the-scenes Moorilla winery Decanted Experience, tasting renowned vintages straight from the tank. Learn about the art of whisky-making with a tasting at Sullivans Cove Distillery, the most-awarded single malt whisky brand in the country. Visit cool-climate winery Frogmore Creek for some seriously good drops with canapés to complement, and stop by Willie Smith's Apple Shed, one of Tasmania's oldest orchards, for a delicious cider sampling.
Foodies will be spoiled for choice with extensive gourmet dining experiences showcasing the region's exceptional farm-to-table produce, including a decadent six-course dinner at Templo restaurant, a two-course lunch at The Source at MONA, a delicious cheese platter at Wicked Cheese Co, fresh oysters and berries on Bruny Island and locally sourced long lunches at Frogmore Creek and Home Hill Winery.
Your tour includes:
Four nights of luxury accommodation at the Islington Hotel — one of Tasmania's most awarded hotels
Daily breakfast and additional dining experiences per itinerary, including a two-course lunch with matching wines at MONA's The Source, lunch at Frogmore Creek, a half-dozen Bruny Island oysters at Get Shucked, and a two-course lunch at Home Hill Winery
Private six-course seasonal dining experience at Templo restaurant
Entry to MONA, with an upgraded one-way Posh Pit ferry ticket including complimentary drinks and canapés, served in an exclusive lounge
Private guided tour of Moorilla, Tasmania's second-oldest vineyard, followed by a tasting room experience featuring 10 wines
Visit Frogmore Creek with guided tasting tour and canapés
Intimate tour and tasting at Sullivans Cove Distillery
Return Bruny Island ferry ticket
Cider paddle tasting at Willie Smith's Apple Shed
Transportation in a private vehicle throughout the tour
The services of an expert local driver-guide
Return airport transfers
All entrance fees, permits and sightseeing per the itinerary
Your journey takes you to: Hobart — Richmond — Huon Valley — Bruny Island — Hobart.
Private departures available: Choose a private tour and enjoy the luxury of touring in the exclusive company of family or friends (min. two, max. eight travellers). See the Fine Print for details.
Book with 100% Confidence: You can rest easy knowing that should you not be able to travel as a result of Government travel restrictions, even right up to the day of departure, Luxury Escapes will assist you with a date change. We can also provide you with a credit or refund for your booking (less any non-recoverable costs). See below for full terms and conditions.
Time limited offer
5 Days from
Twin Share
Valued up to A$4,048
holiday Options
5 Days from
Valued up to A$4,048
Inclusion highlights:
Inclusions valid for one person (twin share) — you must purchase two packages
Four nights of luxury accommodation at the Islington Hotel — one of Tasmania's most awarded hotels
Daily breakfast and additional dining experiences as specified in the itinerary, including a two-course lunch with matching wines at MONA's The Source, lunch at Frogmore Creek, a half-dozen Bruny Island oysters at Get Shucked, and a two-course lunch at Home Hill Winery
Private six-course seasonal dining experience at Templo restaurant
Entry to MONA, with an upgraded one-way Posh Pit ferry ticket including complimentary drinks and canapés, served in an exclusive lounge
Private guided tour of Moorilla, Tasmania's second-oldest vineyard, followed by a tasting room experience featuring 10 wines
Visit Frogmore Creek with guided tasting tour and canapés
Intimate tour and tasting at Sullivans Cove Distillery
Return Bruny Island ferry ticket
Cider paddle tasting at Willie Smith's Apple Shed
Transportation in a private vehicle throughout the tour
The services of an expert local driver-guide
Return airport transfers
All entrance fees, permits and sightseeing per the itinerary
5 Days from
Valued up to A$4,948
Inclusion highlights:
Inclusions valid for one person (solo traveller)
Four nights of luxury accommodation at the Islington Hotel — one of Tasmania's most awarded hotels
Daily breakfast and additional dining experiences as specified in the itinerary, including a two-course lunch with matching wines at MONA's The Source, lunch at Frogmore Creek, a half-dozen Bruny Island oysters at Get Shucked, and a two-course lunch at Home Hill Winery
Private six-course seasonal dining experience at Templo restaurant
Entry to MONA, with an upgraded one-way Posh Pit ferry ticket including complimentary drinks and canapés, served in an exclusive lounge
Private guided tour of Moorilla, Tasmania's second-oldest vineyard, followed by a tasting room experience featuring 10 wines
Visit Frogmore Creek with guided tasting tour and canapés
Intimate tour and tasting at Sullivans Cove Distillery
Return Bruny Island ferry ticket
Cider paddle tasting at Willie Smith's Apple Shed
Transportation in a private vehicle throughout the tour
The services of an expert local driver-guide
Return airport transfers
All entrance fees, permits and sightseeing per the itinerary