1 to 7 Nights
packages available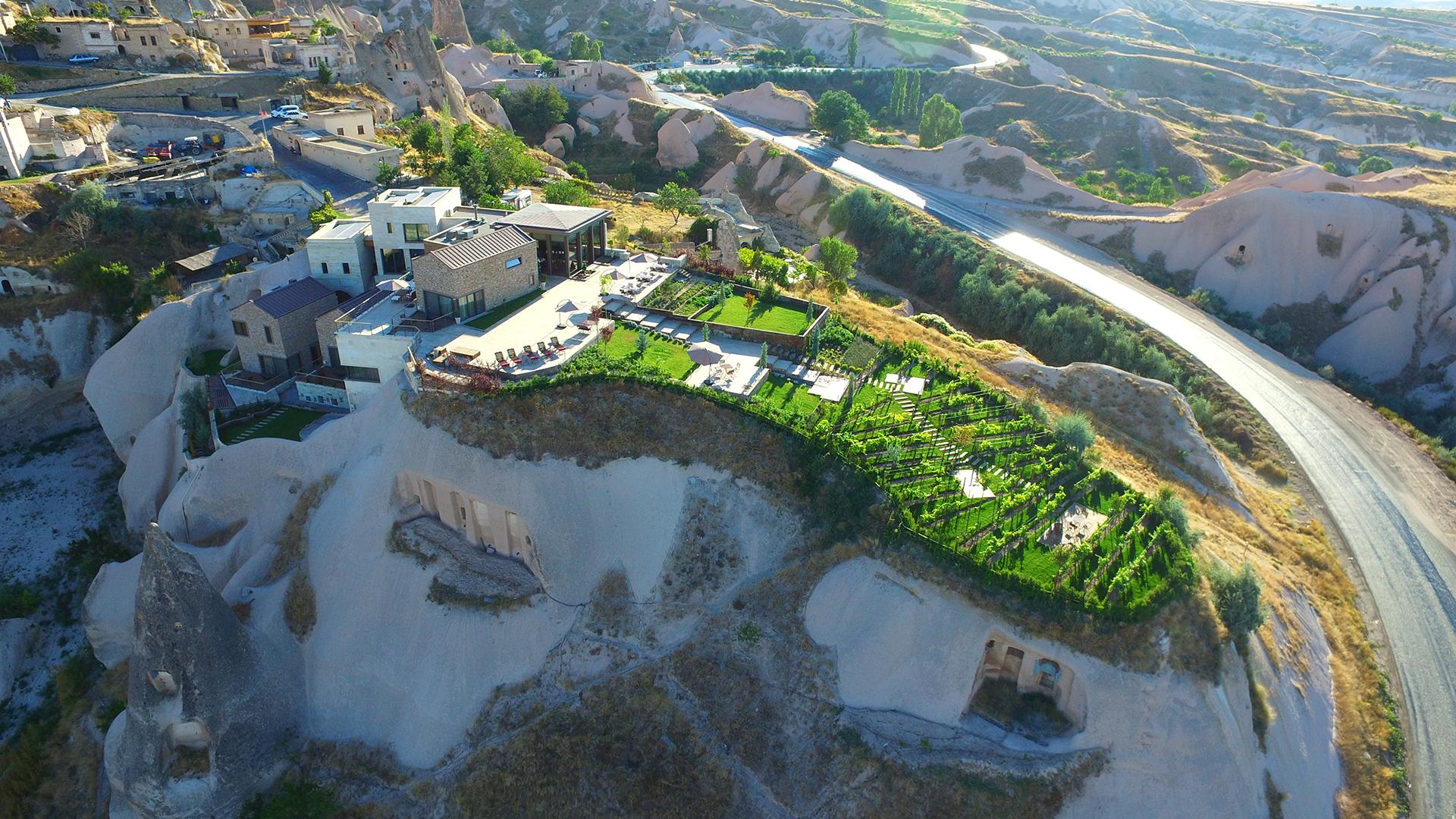 Ariana Sustainable Luxury Lodge
Five-Star Cappadocia Eco-Luxury Lodge with Panoramic Valley Views & Daily Breakfast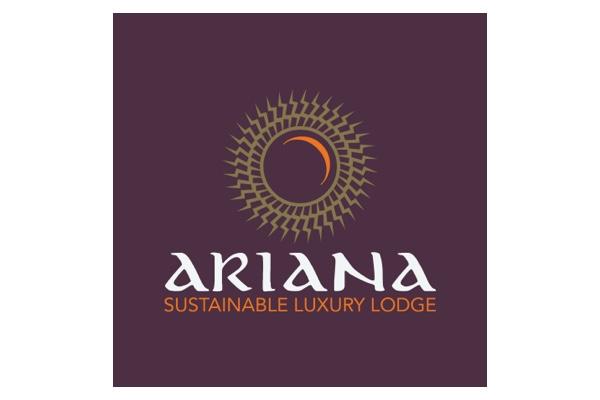 Fly high in one of the world's ultimate bucket-list locations with a stay at Ariana Sustainable Luxury Lodge in Cappadocia, Turkey. Sitting pretty atop the Uchisar Valley, the luxurious lodging boasts breathtaking views of the semi-arid landscapes below, providing a front-row seat to the iconic hot air balloon show above. The hotel (a member of Small Luxury Hotels of the World and a Tripadvisor Travellers' Choice 2020 winner) prides itself on eco-conscious initiatives, including a Tesla charging point and commitment to producing 26% of its energy through solar power. History buffs will delight in its prime position, with the underground city of Kaymakli, Uchisar Citadel and Goreme Open Air Museum all just a short drive away.
Each room and suite at Ariana Sustainable Luxury Lodge takes on the name of an ancient goddess – Kamrusepa is the goddess of healing, medicine and magic, while Aruru is the goddess of fertility, mountains and rulers. Decadent details make each room more than worthy of their namesake deity, with jewelled tones, natural materials and contemporary comforts sitting alongside eco-friendly features and beautifully preserved remnants of the ancient caves they are housed in. They form the perfect base for exploring what Cappadocia has to offer, best organised by the on-site concierge. From horse riding to hot air ballooning, off-road driving to a photography tour, there are plenty of ways to explore the UNESCO-listed sites just outside your front door. At the end of all your adventuring, a fine-dining feast awaits at The Plum Restaurant, where a perfectly placed sun terrace features jaw-dropping views of both the action outside and the property's private vineyard. The ultra-seasonal Mediterranean menu celebrates farm-fresh local ingredients, giving you a taste of Turkey with every bite.
Luxury Escapes inclusions (select nights)
Admire Cappadocia's skyline while enjoying daily à la carte breakfast at The Plum Restaurant
Start your stay with a welcome glass of champagne
Find out why The Plum Restaurant is one of Cappadocia's finest dining experiences with a dinner for two (for stays of 2+ nights)
Ishtar Suite Upgrade: For a little extra space, treat yourself to a stay in the Ishtar Duplex Suite with Private Deck, complete with a separate living room, luxurious bathroom and private deck.
1 to 7 Nights packages available
holiday Options

Select your holiday type
Bau Deluxe Cave Room
After a big day of adventures, the Bau Deluxe Cave Room has everything you need to unwind: a sinkable queen bed, luxuriously sleek bathroom and original cave walls for true peace and quiet
Size: 36 m²
Daily à la carte breakfast at The Plum Restaurant
Glass of champagne on arrival
Check-in: 2pm / Checkout: 12pm
Inclusions valid for up to two adults
Daily à la carte breakfast at The Plum Restaurant
Glass of champagne on arrival
Check-in: 2pm / Checkout: 12pm
Inclusions valid for up to two adults
Kamrusepa Deluxe Cave Room
Kamrusepa Deluxe Cave Room
Cave living takes on new meaning in the Kamrusepa Deluxe Cave Room – a luxurious conversion offers a lush bedroom with walk-in robe, sitting area with gas fireplace and rock-walled bathroom, complete with onyx surfaces
Size: 58 m²
Option 1
KAMRUSEPA DELUXE CAVE ROOM UPGRADE
Daily à la carte breakfast at The Plum Restaurant
Glass of champagne on arrival
Check-in: 2pm / Checkout: 12pm
Inclusions valid for up to two adults
Option 2
KAMRUSEPA DELUXE CAVE ROOM UPGRADE
Daily à la carte breakfast at The Plum Restaurant
Glass of champagne on arrival
Check-in: 2pm / Checkout: 12pm
Inclusions valid for up to two adults
Silili Superior Cave Suite
Silili Superior Cave Suite
Isolation takes a luxury turn in the Silili Superior Cave Suite, where original cave features, soft textures and all the mod-cons create the ultimate in private living
Size: 52 m²
Option 1
SILILI SUPERIOR CAVE SUITE UPGRADE
Daily à la carte breakfast at The Plum Restaurant
Glass of champagne on arrival
Check-in: 2pm / Checkout: 12pm
Inclusions valid for up to two adults
Option 2
SILILI SUPERIOR CAVE SUITE UPGRADE
Daily à la carte breakfast at The Plum Restaurant
Glass of champagne on arrival
Check-in: 2pm / Checkout: 12pm
Inclusions valid for up to two adults
Siduri Superior Suite
Welcome the first rays of sunshine from your king-size bed, or watch the sun set over the valley from your private deck – it's all possible in the Siduri Superior Suite
Size: 42 m²
Option 1
SIDURI SUPERIOR SUITE UPGRADE
Daily à la carte breakfast at The Plum Restaurant
Glass of champagne on arrival
Check-in: 2pm / Checkout: 12pm
Inclusions valid for up to two adults
Option 2
SIDURI SUPERIOR SUITE UPGRADE
Daily à la carte breakfast at The Plum Restaurant
Glass of champagne on arrival
Check-in: 2pm / Checkout: 12pm
Inclusions valid for up to two adults
Inara Deluxe Suite
Privacy is guaranteed in the Inara Deluxe Suite, where original stone walls, an onyx-walled bathroom and balcony overlooking the Güvercinlik Valley mean the ultimate in peace and quiet
Size: 47 m²
Option 1
INARA DELUXE SUITE UPGRADE
Daily à la carte breakfast at The Plum Restaurant
Glass of champagne on arrival
Check-in: 2pm / Checkout: 12pm
Inclusions valid for up to two adults
Option 2
INARA DELUXE SUITE UPGRADE
Daily à la carte breakfast at The Plum Restaurant
Glass of champagne on arrival
Check-in: 2pm / Checkout: 12pm
Inclusions valid for up to two adults
Aja Loft Suite
Watch the sunset over Cappadocia from your cedar sitting area or lush king bed in the Aja Loft Suite – wherever you're perched, you'll have a front-row seat to one of nature's best shows
Size: 42 m²
Option 1
AJA LOFT SUITE UPGRADE
Daily à la carte breakfast at The Plum Restaurant
Glass of champagne on arrival
Check-in: 2pm / Checkout: 12pm
Inclusions valid for up to two adults
Option 2
AJA LOFT SUITE UPGRADE
Daily à la carte breakfast at The Plum Restaurant
Glass of champagne on arrival
Check-in: 2pm / Checkout: 12pm
Inclusions valid for up to two adults
Beltis Deluxe Suite
Venture from your king bed to your private deck via the espresso machine to soak up the spectacular Cappadocia skyline – yours to admire every second of the day from the Beltis Deluxe Suite
Size: 44 m²
Option 1
BELTIS DELUXE SUITE UPGRADE
Daily à la carte breakfast at The Plum Restaurant
Glass of champagne on arrival
Check-in: 2pm / Checkout: 12pm
Inclusions valid for up to two adults
Option 2
BELTIS DELUXE SUITE UPGRADE
Daily à la carte breakfast at The Plum Restaurant
Glass of champagne on arrival
Check-in: 2pm / Checkout: 12pm
Inclusions valid for up to two adults
Nanshe Deluxe Cave Suite
Original cave features give way to a private deck in the Nanshe Deluxe Cave Suite, perfect for evenings spent stargazing with a glass of local wine in hand
Size: 50 m²
Option 1
NANSHE DELUXE CAVE SUITE UPGRADE
Daily à la carte breakfast at The Plum Restaurant
Glass of champagne on arrival
Check-in: 2pm / Checkout: 12pm
Inclusions valid for up to two adults
Option 2
NANSHE DELUXE CAVE SUITE UPGRADE
Daily à la carte breakfast at The Plum Restaurant
Glass of champagne on arrival
Check-in: 2pm / Checkout: 12pm
Inclusions valid for up to two adults
Aruru King Cave Suite
Wash off a day of adventuring in the marble wet room of your Aruru King Cave Suite before sinking into the lounge to admire the jaw-dropping views of the valley below, glass of local wine in hand
Size: 55 m²
Option 1
ARURU KING CAVE SUITE UPGRADE
Daily à la carte breakfast at The Plum Restaurant
Glass of champagne on arrival
Check-in: 2pm / Checkout: 12pm
Inclusions valid for up to two adults
Option 2
ARURU KING CAVE SUITE UPGRADE
Daily à la carte breakfast at The Plum Restaurant
Glass of champagne on arrival
Check-in: 2pm / Checkout: 12pm
Inclusions valid for up to two adults
Ishtar Duplex Suite
Two levels of luxury await in the Ishtar Duplex Suite – spend your evenings by the fire, taking in the starry night sky through a niche, or sink into the standalone bathtub to admire the onyx walls and mosaic artwork
Size: 72 m²
Option 1
ISHTAR DUPLEX SUITE PRIVATE DECK UPGRADE
Daily à la carte breakfast at The Plum Restaurant
Glass of champagne on arrival
Check-in: 2pm / Checkout: 12pm
Inclusions valid for up to two adults
Option 2
ISHTAR DUPLEX SUITE PRIVATE DECK UPGRADE
Daily à la carte breakfast at The Plum Restaurant
Glass of champagne on arrival
Check-in: 2pm / Checkout: 12pm
Inclusions valid for up to two adults
Arinnitti Duplex Suite with Private Deck
Arinnitti Duplex Suite with Private Deck
Spread out in the Arinnitti Duplex Suite, with two levels of luxurious living to explore. Start and end the day on your private deck, while away a few hours in the standalone bathtub, or settle in front of the fireplace for cosy nights in
Size: 70 m²
Option 1
ARINNITTI DUPLEX SUITE PRIVATE DECK UPGRADE
Daily à la carte breakfast at The Plum Restaurant
Glass of champagne on arrival
Check-in: 2pm / Checkout: 12pm
Inclusions valid for up to two adults
Option 2
ARINNITTI DUPLEX SUITE PRIVATE DECK UPGRADE
Daily à la carte breakfast at The Plum Restaurant
Glass of champagne on arrival
Check-in: 2pm / Checkout: 12pm
Inclusions valid for up to two adults