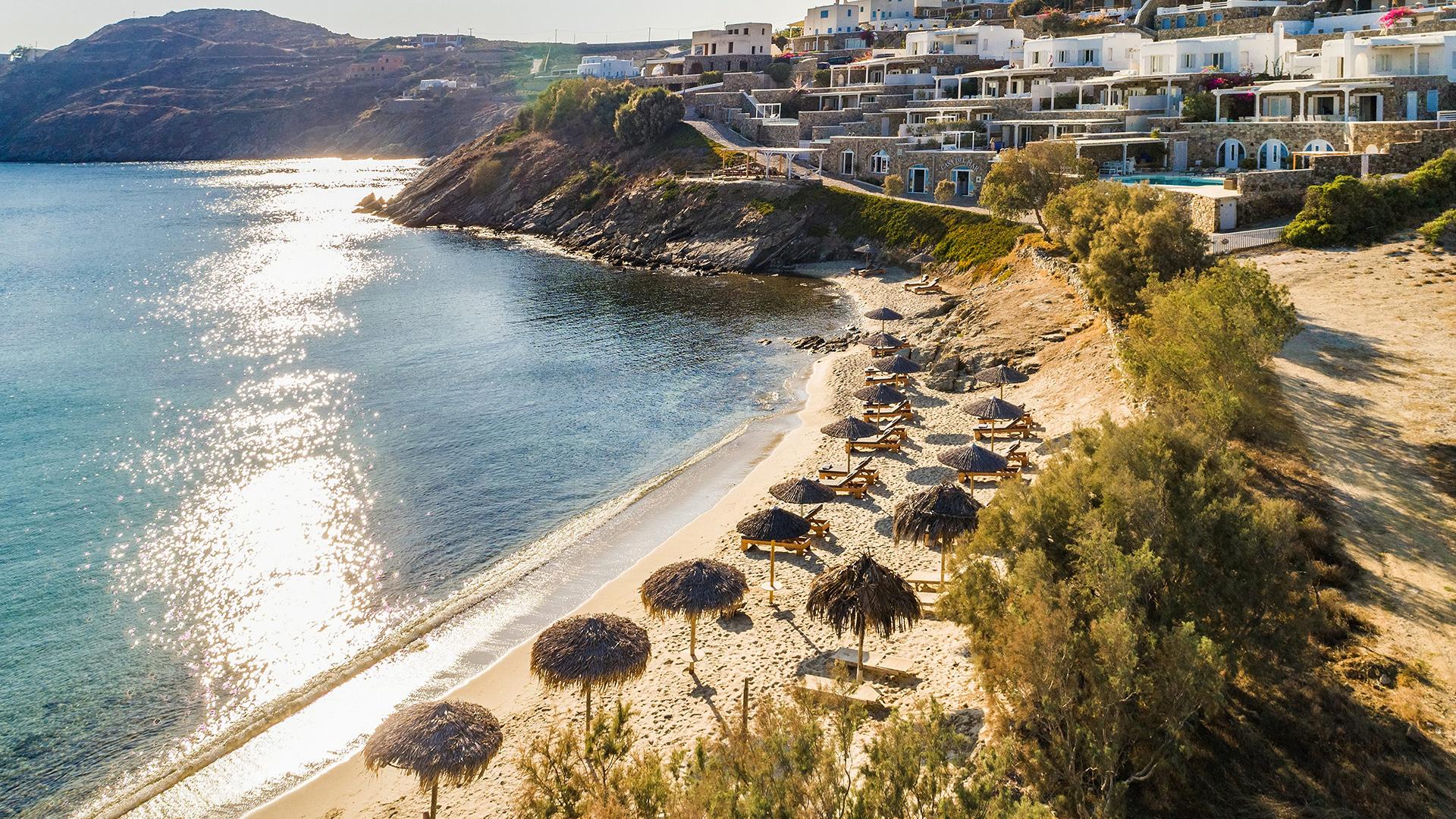 Casa Del Mar Mykonos Seaside Resort
Five-Star Oceanfront Mykonos Group Villas Indulge in the feeling of five-star Greek luxury at Casa Del Mar Mykonos Seaside Resort – a tranquil oceanfront escape that celebrates opulence at every turn. Overlooking the secluded Glifadi Beach, in the charming region of Aleomandra, this collection of spectacular private villas couldn't be better positioned for a sun-soaked escape. It's a peaceful retreat on the quieter side of lively Mykonos, with the fashionable beaches of Kapari, Ornos and Psarou just a short drive away. Mykonos Town is also within easy reach, with world-famous restaurants, bars and nightlife at your fingertips.
Find an indulgent home away from home in one of Casa Del Mar Seaside Resort's 11 villas, each with breathtaking views over the Aegean Sea, fully equipped kitchens and expansive living spaces. Spend your mornings diving into the azure waters of the private beach before lazing on the complimentary sunbeds and umbrellas. Soothe the body and soul with a facial, scrub or massage at the Casa del Mar Beachside Spa, with treatments inspired by the island's natural habitats. Finish with a dip in the indoor saltwater pool, or an experience at the luxurious hammam and thermal water spa. Visit the Miramar Cocktail Restaurant for a hearty start to the day, or return when the sun sets for an indulgent finish, with fine-dining Mediterranean fare served for lunch and dinner. In-villa dining is also available, for when leaving seems that little bit too hard.
Luxury Escapes inclusions (select packages)
Start the day gazing over the Aegean Sea with daily breakfast at Miramar Cocktail Restaurant
Enjoy a villa upgrade, subject to availability (excludes Royal Beachfront Infinity Pool Villa)
Start the holiday earlier and end it later with early check-in and late checkout on request, subject to availability
Sample the flavours of Greece with a bottle of wine and fruit platter on arrival
Embrace relaxed living with a 20% spa discount
Enjoy a stress-free journey with roundtrip private airport transfers
Travelling as a larger group? Opt for the Family and Friends Seaside Villa, which comfortably accommodates seven people with three ensuite bedrooms, separate living spaces and a private outdoor terrace, perfect for cocktail hour.
holiday Options

Select your holiday type
Honeymoon Seaview Villa
Live out your Greek Island dreams in the Honeymoon Seaview Villa, where cool white tones, sparkling azure waters and luxe furnishings make for a romantic spot to rest your head
Size: 60 m²
Option 1
Flexible Offer — 20% Off
Daily breakfast
Upgrade to the next villa category, subject to availability
Early check-in and late checkout on request, subject to availability
Bottle of wine and fruit platter on arrival
20% off spa treatments
Return private roundtrip airport transfers
Inclusions valid for up to three adults
Option 2
Bed & Breakfast Rate
Daily breakfast
Upgrade to the next villa category, subject to availability
Early check-in and late checkout on request, subject to availability
Bottle of wine and fruit platter on arrival
20% off spa treatments
Return private roundtrip airport transfers
Inclusions valid for up to three adults
Option 3
Advance Purchase Rate
Daily breakfast
Upgrade to the next villa category, subject to availability
Early check-in and late checkout on request, subject to availability
Bottle of wine and fruit platter on arrival
20% off spa treatments
Return private roundtrip airport transfers
Inclusions valid for up to three adults
Signature Seaview Villa
Greek luxury is on full display in the Signature Seaview Villa, where two bedrooms, two bathrooms, a spacious living room, fully equipped kitchen and private terrace come together for a luxurious stay
Size: 70 m²
Option 1
Flexible Offer — 20% Off
Daily breakfast
Upgrade to the next villa category, subject to availability
Early check-in and late checkout on request, subject to availability
Bottle of wine and fruit platter on arrival
20% off spa treatments
Return private roundtrip airport transfers
Inclusions valid for up to four adults
Option 2
Bed & Breakfast Rate
Daily breakfast
Upgrade to the next villa category, subject to availability
Early check-in and late checkout on request, subject to availability
Bottle of wine and fruit platter on arrival
20% off spa treatments
Return private roundtrip airport transfers
Inclusions valid for up to four adults
Option 3
Advance Purchase Rate
Daily breakfast
Upgrade to the next villa category, subject to availability
Early check-in and late checkout on request, subject to availability
Bottle of wine and fruit platter on arrival
20% off spa treatments
Return private roundtrip airport transfers
Inclusions valid for up to four adults
Signature Seaview Jacuzzi Villa
Signature Seaview Jacuzzi Villa
Soak away your troubles in your private jacuzzi in the Signature Seaview Jacuzzi Villa, perfectly positioned to enjoy jaw-dropping views of the Aegean Sea
Size: 70 m²
Option 1
Flexible Offer — 20% Off
Daily breakfast
Upgrade to the next villa category, subject to availability
Early check-in and late checkout on request, subject to availability
Bottle of wine and fruit platter on arrival
20% off spa treatments
Return private roundtrip airport transfers
Inclusions valid for up to four adults
Option 2
Bed & Breakfast Rate
Daily breakfast
Upgrade to the next villa category, subject to availability
Early check-in and late checkout on request, subject to availability
Bottle of wine and fruit platter on arrival
20% off spa treatments
Return private roundtrip airport transfers
Inclusions valid for up to four adults
Option 3
Advance Purchase Rate
Daily breakfast
Upgrade to the next villa category, subject to availability
Early check-in and late checkout on request, subject to availability
Bottle of wine and fruit platter on arrival
20% off spa treatments
Return private roundtrip airport transfers
Inclusions valid for up to four adults
Family and Friends Seaside Villa
Family and Friends Seaside Villa
Escape with loved ones in the Family and Friends Seaside Villa, with three bedrooms, three bathrooms and plenty of indoor and outdoor living space
Size: 150 m²
Option 1
Flexible Offer — 20% Off
Daily breakfast
Upgrade to the next villa category, subject to availability
Early check-in and late checkout on request, subject to availability
Bottle of wine and fruit platter on arrival
20% off spa treatments
Return private roundtrip airport transfers
Inclusions valid for up to seven adults
Option 2
Bed & Breakfast Rate
Daily breakfast
Upgrade to the next villa category, subject to availability
Early check-in and late checkout on request, subject to availability
Bottle of wine and fruit platter on arrival
20% off spa treatments
Return private roundtrip airport transfers
Inclusions valid for up to seven adults
Option 3
Advance Purchase Rate
Daily breakfast
Upgrade to the next villa category, subject to availability
Early check-in and late checkout on request, subject to availability
Bottle of wine and fruit platter on arrival
20% off spa treatments
Return private roundtrip airport transfers
Inclusions valid for up to seven adults
Royal Beachfront Infinity Pool Villa
Royal Beachfront Infinity Pool Villa
The ultimate island paradise awaits in the Royal Beachfront Infinity Pool Villa, where you can relax by your private pool, enjoy lunch alfresco and rest your head in calming bedrooms
Size: 85 m²
Option 1
Flexible Offer — 20% Off
Daily breakfast
Early check-in and late checkout on request, subject to availability
Bottle of wine and fruit platter on arrival
20% off spa treatments
Return private roundtrip airport transfers
Inclusions valid for up to five adults
Option 2
Bed & Breakfast Rate
Daily breakfast
Early check-in and late checkout on request, subject to availability
Bottle of wine and fruit platter on arrival
20% off spa treatments
Return private roundtrip airport transfers
Inclusions valid for up to five adults
Option 3
Advance Purchase Rate
Daily breakfast
Early check-in and late checkout on request, subject to availability
Bottle of wine and fruit platter on arrival
20% off spa treatments
Return private roundtrip airport transfers
Inclusions valid for up to five adults