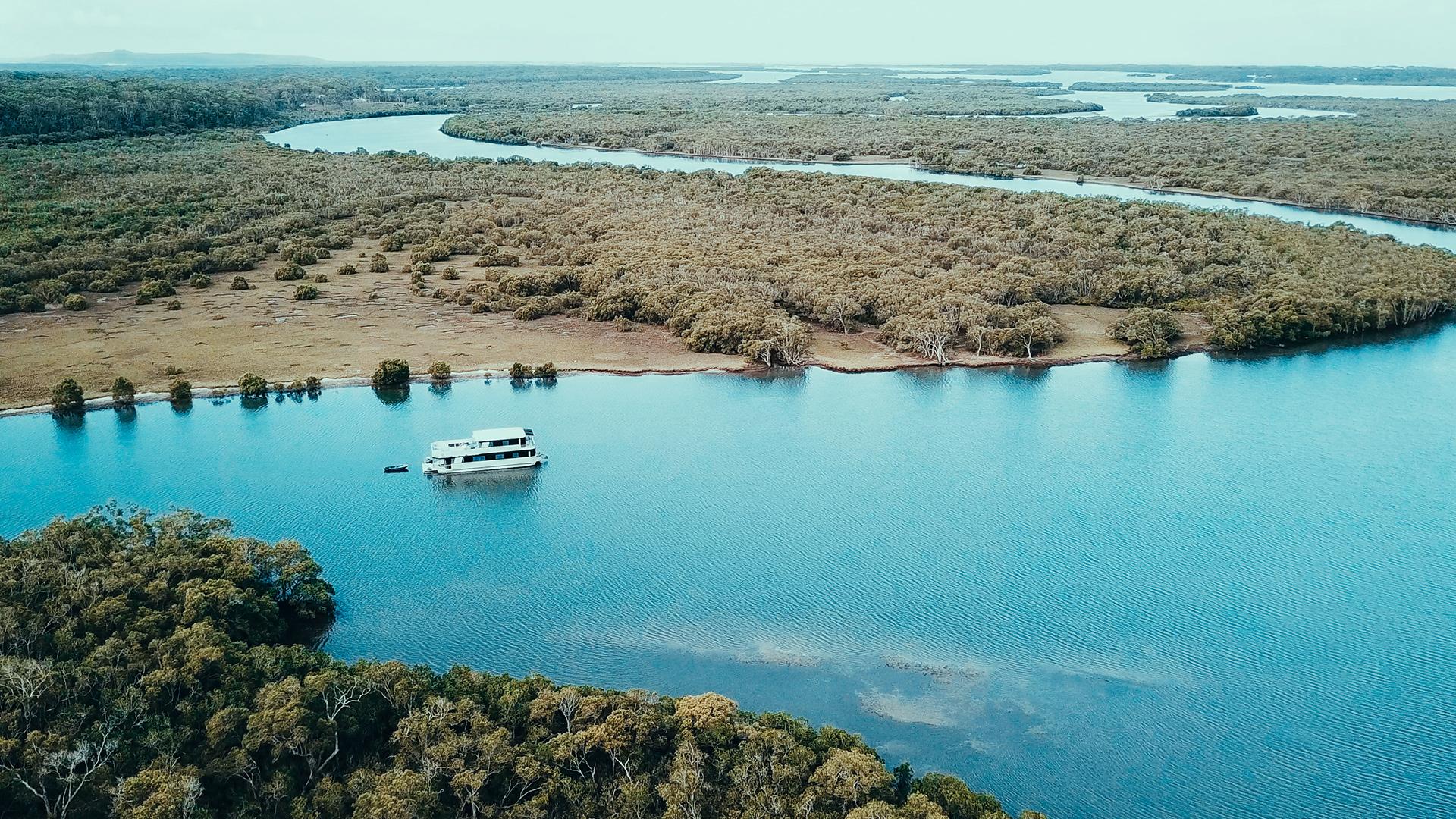 Coomera Houseboats
Tranquil Gold Coast Houseboat for up to 12 Guests with Rooftop Spa

Be the captain of your own adventure onboard a private houseboat with Coomera Houseboats, cruising the idyllic South Queensland waterways of the Gold Coast and lower Moreton Bay. Whether you prefer to seek out hidden islands and anchor at a number of selected spots within the cruising grounds or unwind in the rooftop spa, a houseboat offers the best of both worlds. Enjoy unparalleled freedom, adventure and a deliciously slow pace of life on this self-contained haven, where you can take in the tranquil beauty of Queensland's glistening waterways with the occasional flick of a wheel.
Choose from three different houseboats: Blue Sky Spa, Aegean 60 Spa or The Prestige Spa. Each boasts space for up to 12 guests with a rooftop spa, fully equipped kitchen and four staterooms. Lack of sailing experience? Cast off with confidence thanks to a comprehensive briefing prior to embarkation. With the freedom to drop the anchor where you like within selected areas, you can alternate your time between dropping a line off the back of the boat and visiting the nearby sights, including the Gold Coast's theme parks, pristine sandy stretches or bushwalking trails that line the river's edge.
Your handpicked inclusions:
Complimentary linen and towels provided throughout your stay
One-time cleaning post-departure
Want to make your voyage really special? Upgrade to The Prestige Spa, the most luxurious and largest within Coomera Houseboats' fleet, featuring a rooftop spa for up to eight guests.
holiday Options
Select your holiday type
GOLD COAST HOUSEBOAT ESCAPE
Blue Sky Spa
One of the finest vessels on the water, Blue Sky boasts four queen staterooms and two single bunks, a heated spa on-deck and a deluxe kitchen, with a large dining upper deck and a rear deck perfect for casting a rod
Room Size: 99 m²
Inclusion highlights:
Complimentary linen and towels
Vessel clean post-cruise
Check-in: 3pm / Checkout: 9.30am
Inclusions valid for up to 12 guests
AEGEAN 60 HOUSEBOAT ESCAPE
Aegean 60 Spa
Crafted with luxury and comfort in mind, Aegean 60 Spa features state of the art facilities and modern conveniences, including a six-person spa on the upper deck with alfresco dining space and more
Room Size: 106 m²
Inclusion highlights:
Complimentary linen and towels
Vessel clean post-cruise
Check-in: 3pm / Checkout: 9.30am
Inclusions valid for up to 12 guests
The Prestige Spa
The largest of the fleet, The Prestige Spa boasts four generous queen staterooms with two double sofa beds, a fully equipped kitchen with an eight-person spa and an additional enclosed lounge area on the top deck
Room Size: 117 m²
Inclusion highlights:
Complimentary linen and towels
Vessel clean post-cruise
Check-in: 3pm / Checkout: 9.30am
Inclusions valid for up to 12 guests