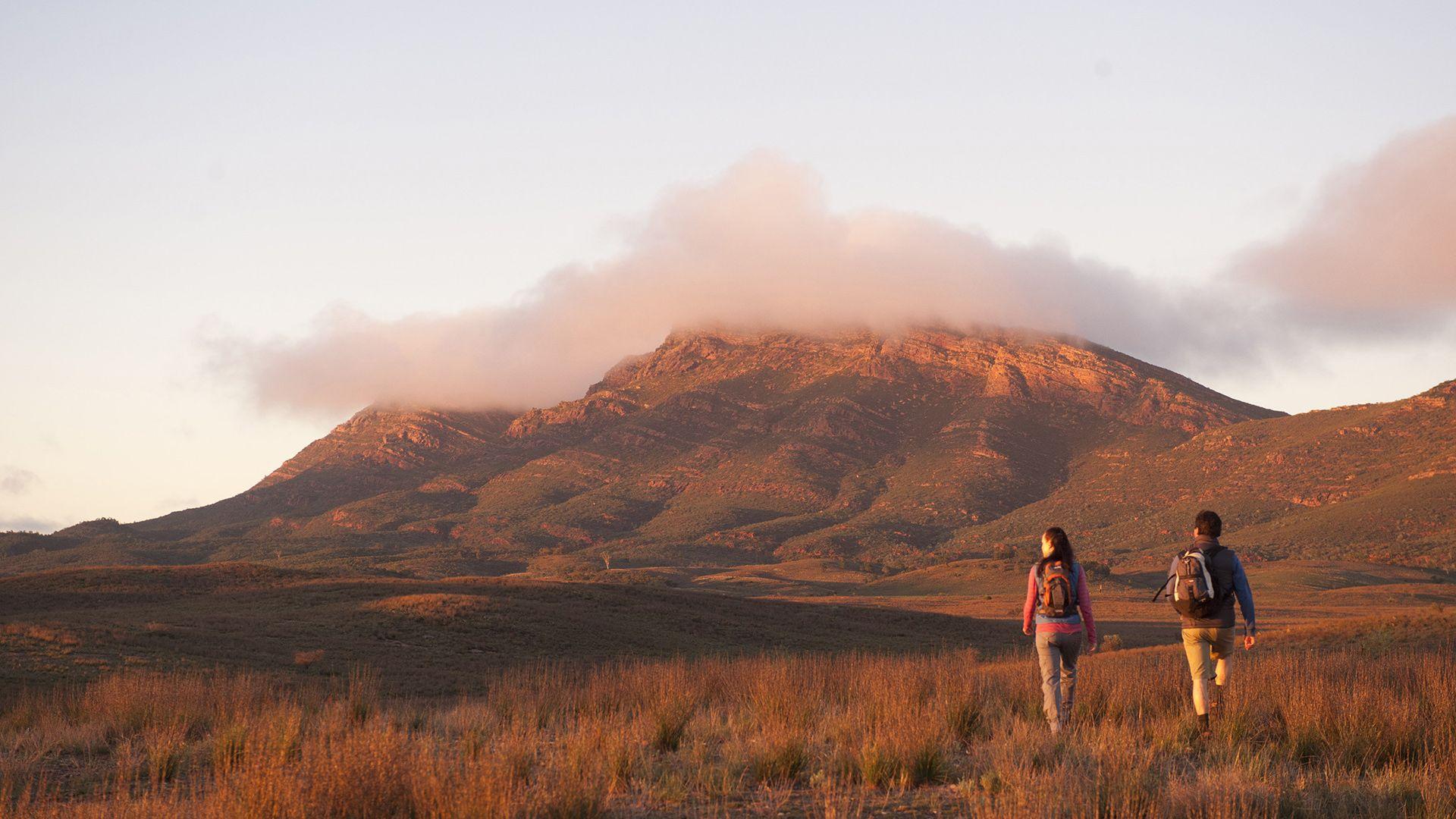 Flinders Ranges & Wilpena Pound 2022: 5-Day Small-Group Walking Tour with Daily Dining & Guided Exploration
Make tracks in one of the most beautifully rugged landscapes in the world on this five-day, small-group (max. 10 guests) tour of the Flinders Ranges and the incredible Wilpena Pound. Led by experienced guides who will show the way, provide expert insight and prepare daily meals (as per the itinerary), learn about this ancient and spiritually significant area as you follow one of Australia's most iconic walks — the Heysen Trail — and meander across Wilpena Pound's 800-million-year-old formations, the traditional meeting place of the Indigenous Adnyamathanha peoples. Take a walk through time as you follow the Yuluna Circuit past old pastoral ruins and trace 130-million-years of natural history along Brachina Gorge's 'Corridors Through Time'.
Admire the glistening waters of Blinman Pools, traverse Alligator Gorge's striking red cliff faces and spend nights gazing at the billion-star light show around the fire at iconic Rawnsley Park station, a working sheep station located at the edge of Ikara-Flinders Ranges National Park and Wilpena Pound.
Your tour includes:
Four nights of eco-certified accommodation at the iconic Rawnsley Park Station, located at the edge of Ikara-Flinders Ranges National Park
Daily dining as per the itinerary (four breakfasts, four lunches and three dinners)
Daily guided walks including Wilpena Pound, the Heysen Trail, Yuluna Circuit, Brachina Gorge's 'Corridors Through Time', Blinman Pools and Alligator Gorge
The services of two expert guides who will drive, cook and care for you throughout
Return transfers from Adelaide
All national park entry fees
Your journey takes you to: Adelaide — Mumbray Creek Reserve — Flinders Ranges — Heysen Trail — Wilpena Pound — Yuluna Circuit — Brachina Gorge — Blinman Pools — Parachilna George — Alligator Gorge — Adelaide.
Book with confidence: If you are unable to travel as a result of Government travel restrictions, Luxury Escapes will assist you with a date change, provide you with a credit or process a refund for your booking less any non-recoverable costs. See Fine Print for details.
Time limited offer
5 Days from
Twin Share
Valued up to A$2,300
holiday Options
5 Days from
Valued up to A$2,300
Inclusion highlights:
Package valid for one person (twin share) — You MUST purchase TWO packages
Four nights of eco-certified accommodation at the iconic Rawnsley Park Station, located at the edge of Ikara-Flinders Ranges National Park
Daily dining as per the itinerary (four breakfasts, four lunches and three dinners)
Daily guided walks including Wilpena Pound, the famous Heysen Trail, Yuluna Circuit, Brachina Gorge's 'Corridors Through Time', Blinman Pools and the breathtaking Alligator Gorge
The services of two expert guides who will drive, cook and care for you throughout
Return transfers from Adelaide (via Adelaide airport on the return journey)
All national park entry fees
5 Days from
Valued up to A$2,400
Inclusion highlights:
Package valid for one person (twin share) — You MUST purchase TWO packages
Four nights of eco-certified accommodation at the iconic Rawnsley Park Station, located at the edge of Ikara-Flinders Ranges National Park
Daily dining as per the itinerary (four breakfasts, four lunches and three dinners)
Daily guided walks including Wilpena Pound, the famous Heysen Trail, Yuluna Circuit, Brachina Gorge's 'Corridors Through Time', Blinman Pools and the breathtaking Alligator Gorge
The services of two expert guides who will drive, cook and care for you throughout
Return transfers from Adelaide (via Adelaide airport on the return journey)
All national park entry fees
SOLO TRAVELLER – LOW SEASON
5 Days from
Valued up to A$2,700
Inclusion highlights:
Package valid for one person (solo traveller)
Four nights of eco-certified accommodation at the iconic Rawnsley Park Station, located at the edge of Ikara-Flinders Ranges National Park
Daily dining as per the itinerary (four breakfasts, four lunches and three dinners)
Daily guided walks including Wilpena Pound, the famous Heysen Trail, Yuluna Circuit, Brachina Gorge's 'Corridors Through Time', Blinman Pools and the breathtaking Alligator Gorge
The services of two expert guides who will drive, cook and care for you throughout
Return transfers from Adelaide (via Adelaide airport on the return journey)
All national park entry fees
SOLO TRAVELLER – HIGH SEASON
5 Days from
Valued up to A$2,800
Inclusion highlights:
Package valid for one person (solo traveller)
Four nights of eco-certified accommodation at the iconic Rawnsley Park Station, located at the edge of Ikara-Flinders Ranges National Park
Daily dining as per the itinerary (four breakfasts, four lunches and three dinners)
Daily guided walks including Wilpena Pound, the famous Heysen Trail, Yuluna Circuit, Brachina Gorge's 'Corridors Through Time', Blinman Pools and the breathtaking Alligator Gorge
The services of two expert guides who will drive, cook and care for you throughout
Return transfers from Adelaide (via Adelaide airport on the return journey)
All national park entry fees