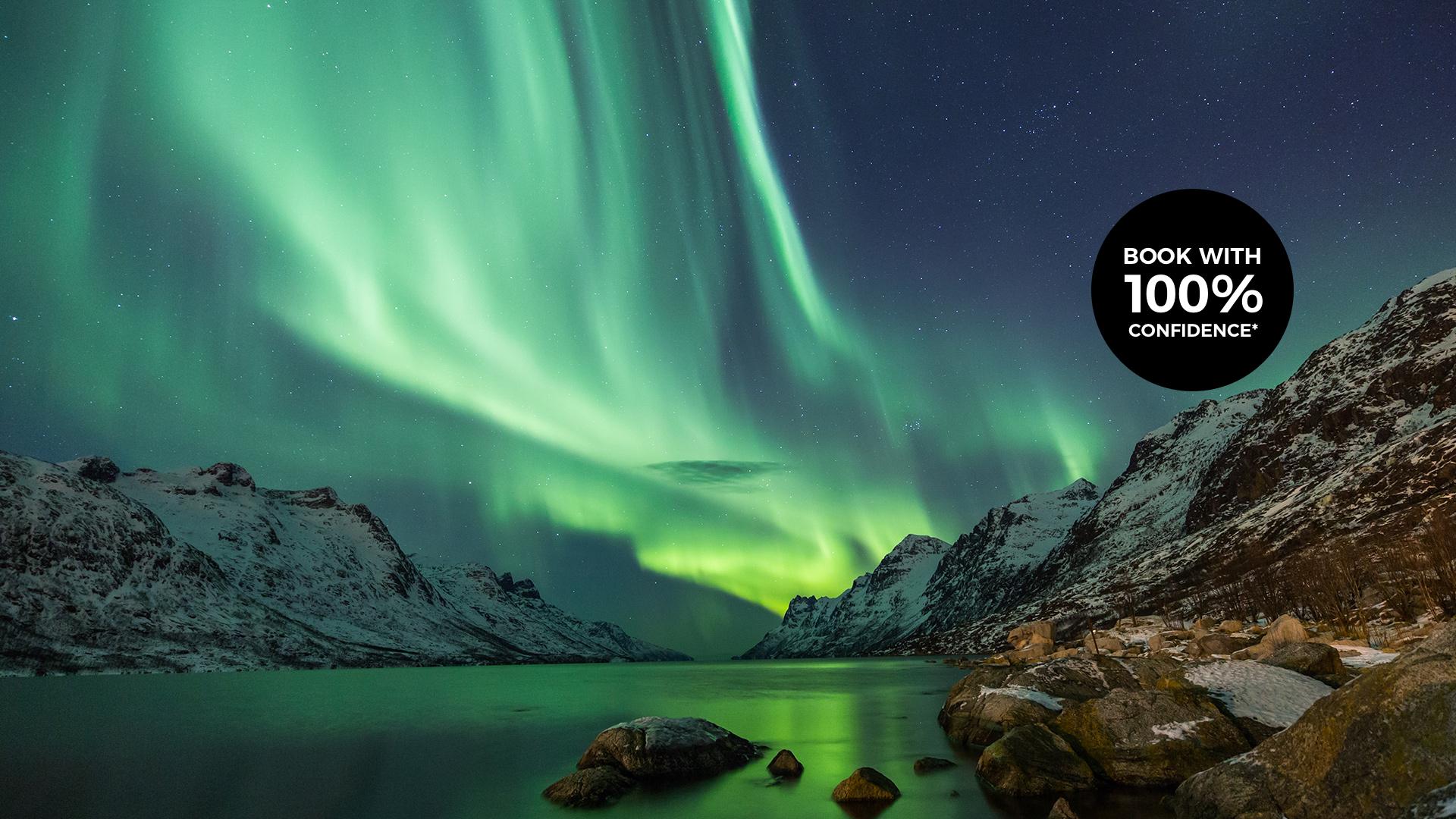 Iceland 2022: 7-Day Small-Group Tour with Gullfoss Falls, Golden Circle Exploration & Hot Springs Visit
Discover the sheer beauty of this magnificent Nordic wonderland on a seven-day small-group tour (max. 14 travellers), taking you from the northernmost capital of the world into glacial landscapes and up close to powerful waterfalls, while also acquainting you with fascinating culture and cuisine hidden within this icy isle.
Experience a welcome departure from the everyday in Iceland, the perfect destination for thrill-seekers, waterfall-chasers, culture or history enthusiasts and, of course, adventurous spirits. Starting and ending in Reykjavík, traverse some of Iceland's wildest landscapes to encounter gurgling geothermal hot springs, witness the steamy eruptions of the Strokkur Geyser, gaze at gleaming glaciers, experience the giant Seljalandsfoss and Skógafoss waterfalls in all their splendour and listen to ancient tales of Vikings and Icelandic folklore.
Regardless of which season you travel (low, high or peak), Iceland's magic will have you in its thrall as you sink into the depths of Krauma geothermal baths, cruise between translucent icebergs at Jökulsárlón Glacial Lagoon (peak season only), visit the now-iconic Reynisfjara black-sand beach – of Game of Thrones fame – and learn the history of Barnafoss, also known as Children's Waterfall.
Your tour includes:
Six nights of handpicked accommodation – including three nights at Apotek Hotel by Keahotels in Reykjavik, one night at Hotel Rangá on Iceland's South Coast and two nights at Fosshótel Glacier Lagoon
Daily breakfast, plus additional dining experiences as specified in the itinerary, including a welcome and farewell dinner
Experience the magic of the Golden Circle, including time at Thingvellir National Park, the Strokkur Geysir and Gullfoss Falls
Hear the thundering sound of Seljalandsfoss and Skógafoss waterfalls
Marvel at the bizarre black sand beach of Reynisfjara in South Iceland
Hop in a Zodiac and cruise between the gleaming icebergs at Jökulsárlón Glacial Lagoon (peak season only)
Embark on a guided city walking tour in Reykjavík
Hear Icelandic folklore as you admire Barnafoss, also known as Children's Waterfall
Soak in one of just six baths at the Krauma geothermal baths
The services of an expert local guide throughout
Transport as per itinerary with private roundtrip airport transfers
All entrance fees and sightseeing per the itinerary
Your journey takes you to: Reykjavík — Golden Circle – Hella — South Coast (Hnappavellir) — Reykjavík.
Book with 100% Confidence: Right up until 60 days before departure you can enjoy unlimited, free date changes, or cancel and get a 100% credit (less any unrecoverable costs) to use at Luxury Escapes for any other Limited Time Lux Exclusive accommodation, tour or cruise offer. Excludes flights, see the Fine Print for details. Furthermore, if you are unable to travel on your tour as a result of Government travel restrictions, even right up to the day of departure, Luxury Escapes will assist you with a date change, provide you with a credit or process a refund for your tour booking less any non-recoverable costs.
Time limited offer
7 Days from
Twin Share
Valued up to A$4,919
holiday Options
7 Days from
Valued up to A$4,919
Sold out
Inclusion highlights:
Inclusions valid for one person (twin share) — you MUST purchase TWO packages
Includes private room and bath throughout tour with king or queen bed, or two bed options
Six nights of handpicked accommodation – including three nights at Apotek Hotel by Keahotels in Reykjavik, one night at Hotel Rangá on Iceland's South Coast and two nights at Fosshótel Glacier Lagoon
Daily breakfast, plus additional dining experiences as specified in the itinerary, including a welcome and farewell dinner
Experience the magic of the Golden Circle, including time at Thingvellir National Park, the Strokkur Geysir and Gullfoss Falls
Hear the thundering sound of Seljalandsfoss and Skógafoss waterfalls
Marvel at the bizarre black sand beach of Reynisfjara in South Iceland
Embark on a guided city walking tour in Reykjavík
Hear Icelandic folklore as you admire Barnafoss, also known as Children's Waterfall
Soak in one of just six baths at the Krauma geothermal baths
The services of an expert local guide throughout
Transport as per itinerary with private roundtrip airport transfers
All entrance fees and sightseeing per the itinerary
7 Days from
Valued up to A$5,237
Sold out
Inclusion highlights:
Inclusions valid for one person (twin share) — you MUST purchase TWO packages
Includes private room and bath throughout tour with king or queen bed, or two bed options
Six nights of handpicked accommodation – including three nights at Apotek Hotel by Keahotels in Reykjavik, one night at Hotel Rangá on Iceland's South Coast and two nights at Fosshótel Glacier Lagoon
Daily breakfast, plus additional dining experiences as specified in the itinerary, including a welcome and farewell dinner
Experience the magic of the Golden Circle, including time at Thingvellir National Park, the Strokkur Geysir and Gullfoss Falls
Hear the thundering sound of Seljalandsfoss and Skógafoss waterfalls
Marvel at the bizarre black sand beach of Reynisfjara in South Iceland
Hop in a Zodiac and cruise between the gleaming icebergs at Jökulsárlón Glacial Lagoon (peak season only)
Embark on a guided city walking tour in Reykjavík
Hear Icelandic folklore as you admire Barnafoss, also known as Children's Waterfall
Soak in one of just six baths at the Krauma geothermal baths
The services of an expert local guide throughout
Transport as per itinerary with private roundtrip airport transfers
All entrance fees and sightseeing per the itinerary
7 Days from
Valued up to A$6,030
Sold out
Inclusion highlights:
Inclusions valid for one person (twin share) — you MUST purchase TWO packages
Includes private room and bath throughout tour with king or queen bed, or two bed options
Six nights of handpicked accommodation – including three nights at Apotek Hotel by Keahotels in Reykjavik, one night at Hotel Rangá on Iceland's South Coast and two nights at Fosshótel Glacier Lagoon
Daily breakfast, plus additional dining experiences as specified in the itinerary, including a welcome and farewell dinner
Experience the magic of the Golden Circle, including time at Thingvellir National Park, the Strokkur Geysir and Gullfoss Falls
Hear the thundering sound of Seljalandsfoss and Skógafoss waterfalls
Marvel at the bizarre black sand beach of Reynisfjara in South Iceland
Embark on a guided city walking tour in Reykjavík
Hear Icelandic folklore as you admire Barnafoss, also known as Children's Waterfall
Soak in one of just six baths at the Krauma geothermal baths
The services of an expert local guide throughout
Transport as per itinerary with private roundtrip airport transfers
All entrance fees and sightseeing per the itinerary
SOLO TRAVELLER — LOW SEASON
7 Days from
Valued up to A$5,871
Sold out
Inclusion highlights:
Inclusions valid for one person (solo traveller)
Includes private room and bath throughout tour with king or queen bed, or two bed options
Six nights of handpicked accommodation – including three nights at Apotek Hotel by Keahotels in Reykjavik, one night at Hotel Rangá on Iceland's South Coast and two nights at Fosshótel Glacier Lagoon
Daily breakfast, plus additional dining experiences as specified in the itinerary, including a welcome and farewell dinner
Experience the magic of the Golden Circle, including time at Thingvellir National Park, the Strokkur Geysir and Gullfoss Falls
Hear the thundering sound of Seljalandsfoss and Skógafoss waterfalls
Marvel at the bizarre black sand beach of Reynisfjara in South Iceland
Embark on a guided city walking tour in Reykjavík
Hear Icelandic folklore as you admire Barnafoss, also known as Children's Waterfall
Soak in one of just six baths at the Krauma geothermal baths
The services of an expert local guide throughout
Transport as per itinerary with private roundtrip airport transfers
All entrance fees and sightseeing per the itinerary
SOLO TRAVELLER – HIGH SEASON
7 Days from
Valued up to A$6,427
Sold out
Inclusion highlights:
Inclusions valid for one person (solo traveller)
Includes private room and bath throughout tour with king or queen bed, or two bed options
Six nights of handpicked accommodation – including three nights at Apotek Hotel by Keahotels in Reykjavik, one nights at Hotel Rangá on Iceland's South Coast and two nights at Fosshótel Glacier Lagoon
Daily breakfast, plus additional dining experiences as specified in the itinerary, including a welcome and farewell dinner
Experience the magic of the Golden Circle, including time at Thingvellir National Park, the Strokkur Geysir and Gullfoss Falls
Hear the thundering sound of Seljalandsfoss and Skógafoss waterfalls
Marvel at the bizarre black sand beach of Reynisfjara in South Iceland
Hop in a Zodiac and cruise between the gleaming icebergs at Jökulsárlón Glacial Lagoon (peak season only)
Embark on a guided city walking tour in Reykjavík
Hear Icelandic folklore as you admire Barnafoss, also known as Children's Waterfall
Soak in one of just six baths at the Krauma geothermal baths
The services of an expert local guide throughout
Transport as per itinerary with private roundtrip airport transfers
All entrance fees and sightseeing per the itinerary
SOLO TRAVELLER — PEAK SEASON
7 Days from
Valued up to A$7,617
Sold out
Inclusion highlights:
Inclusions valid for one person (solo traveller)
Includes private room and bath throughout tour with king or queen bed, or two bed options
Six nights of handpicked accommodation – including three nights at Apotek Hotel by Keahotels in Reykjavik, one nights at Hotel Rangá on Iceland's South Coast and two nights at Fosshótel Glacier Lagoon
Daily breakfast, plus additional dining experiences as specified in the itinerary, including a welcome and farewell dinner
Experience the magic of the Golden Circle, including time at Thingvellir National Park, the Strokkur Geysir and Gullfoss Falls
Hear the thundering sound of Seljalandsfoss and Skógafoss waterfalls
Marvel at the bizarre black sand beach of Reynisfjara in South Iceland
Embark on a guided city walking tour in Reykjavík
Hear Icelandic folklore as you admire Barnafoss, also known as Children's Waterfall
Soak in one of just six baths at the Krauma geothermal baths
The services of an expert local guide throughout
Transport as per itinerary with private roundtrip airport transfers
All entrance fees and sightseeing per the itinerary