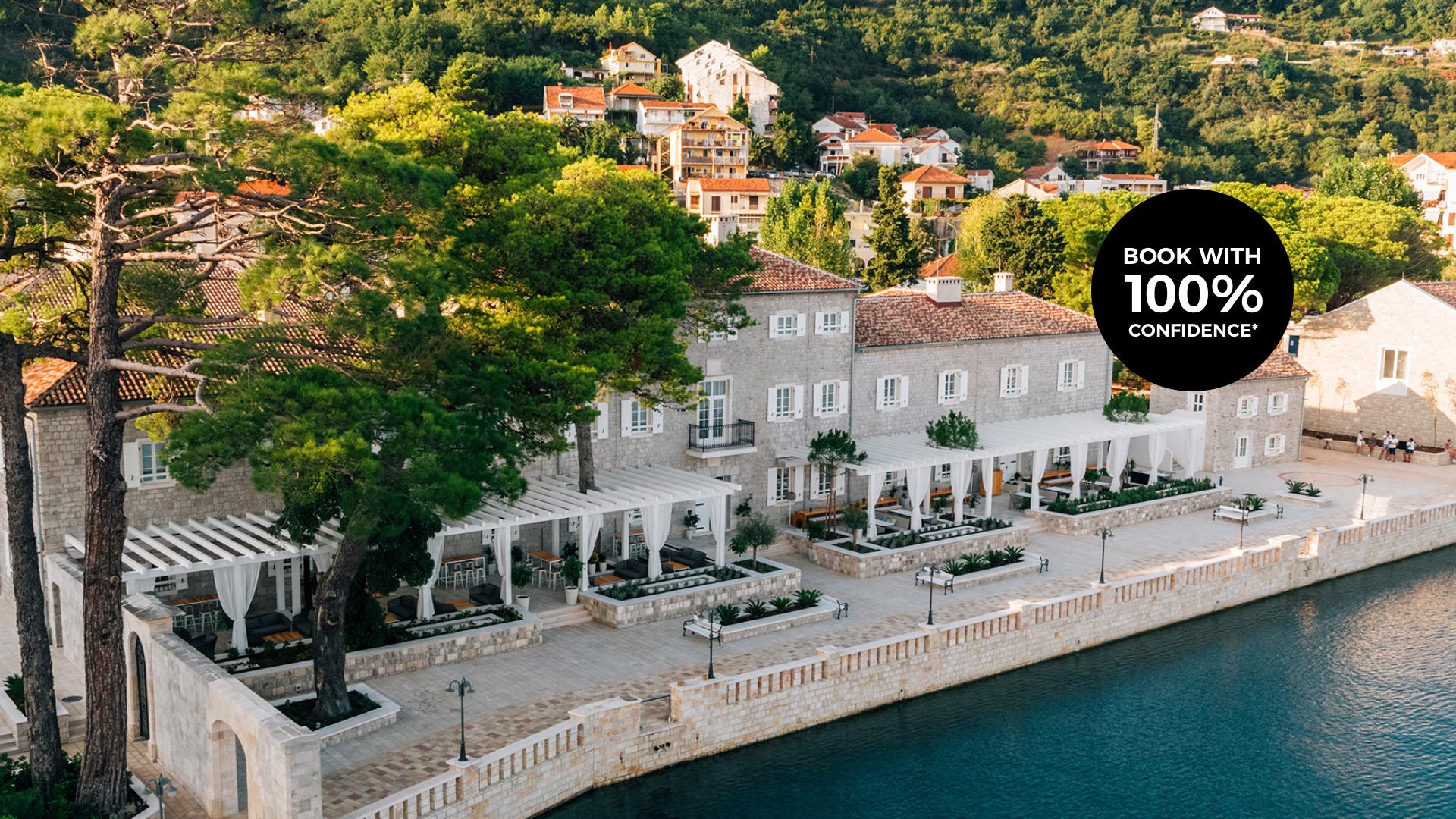 Lazure Marina & Hotel
Five-Star Montenegro Escape Overlooking Kotor Bay with Daily Dining

Enjoy a five-star stay at Lazure Marina & Hotel, set in an 18th-century Venetian stone building overlooking Montenegro's famed Kotor Bay. Days here are best spent savouring romantic waterside dining, admiring the super-yachts that line the marina, discovering historic buildings or hopping on a boat across to one of the secluded surrounding islands.
If it's not on there already, you need to add Montenegro to your bucket list. Experience the mountainous beauty, dreamy azure waters, homemade cheeses, fresh seafood and local wines of the UNESCO-listed Kotor Bay, named one of '25 places in Eastern Europe you must see in your lifetime' by The Telegraph UK.
Your handpicked inclusions:
Wake up to daily breakfast at Augusto Brasserie
End every night with set-menu dinner at Augusto Brasserie
Toast your escape with a complimentary bottle of wine on arrival
Suite Upgrades: For a little extra space, upgrade to the Courtyard View Suite or go a step further with the Sea View Suite, where stunning views of the Adriatic await.
Book with 100% Confidence: If for whatever reason you don't want to go on your holiday, you can cancel right up to 14 days before check-in and get a 100% credit to use at Luxury Escapes for any other accommodation offer. Excludes flights, see the Fine Print for details.
holiday Options
Select your holiday type
Deluxe Room
This cosy, chic room overlooks the courtyard and offers modern amenities for a comfortable stay
Room Size: 25 m²
Inclusion highlights:
Daily breakfast at Augusto Brasserie
Nightly set-menu dinner at Augusto Brasserie
Complimentary bottle of wine on arrival
Check-in: 2pm / Checkout: 12pm
Inclusions valid for up to two guests
DELUXE MOUNTAIN VIEW UPGRADE
Deluxe Room Mountain View
Wake up to charming views of the mountains lining the Montenegro coast in this luxe modern room
Room Size: 27 m²
Inclusion highlights:
Daily breakfast at Augusto Brasserie
Nightly set-menu dinner at Augusto Brasserie
Complimentary bottle of wine on arrival
Check-in: 2pm / Checkout: 12pm
Inclusions valid for up to two guests
COURTYARD VIEW SUITE UPGRADE
Courtyard View Suite
Enjoy lush luxury in this spacious and well-appointed suite, bathed in minimalist white décor and exposed stonework
Room Size: 48 m²
Inclusion highlights:
Daily breakfast at Augusto Brasserie
Nightly set-menu dinner at Augusto Brasserie
Complimentary bottle of wine on arrival
Check-in: 2pm / Checkout: 12pm
Inclusions valid for up to two guests
Deluxe Room Sea View
Make the most of your stay in this gorgeous haven, where you can enjoy uninterrupted views of the Adriatic Sea
Room Size: 28 m²
Inclusion highlights:
Daily breakfast at Augusto Brasserie
Nightly set-menu dinner at Augusto Brasserie
Complimentary bottle of wine on arrival
Check-in: 2pm / Checkout: 12pm
Inclusions valid for up to two guests
Sea View Suite
This sprawling, sun-lit suite is designed for maximum comfort: enjoy a relaxed evening with stunning views of the Adriatic Sea or lounge in the beautiful living area
Room Size: 48 m²
Inclusion highlights:
Daily breakfast at Augusto Brasserie
Nightly set-menu dinner at Augusto Brasserie
Complimentary bottle of wine on arrival
Check-in: 2pm / Checkout: 12pm
Inclusions valid for up to two guests