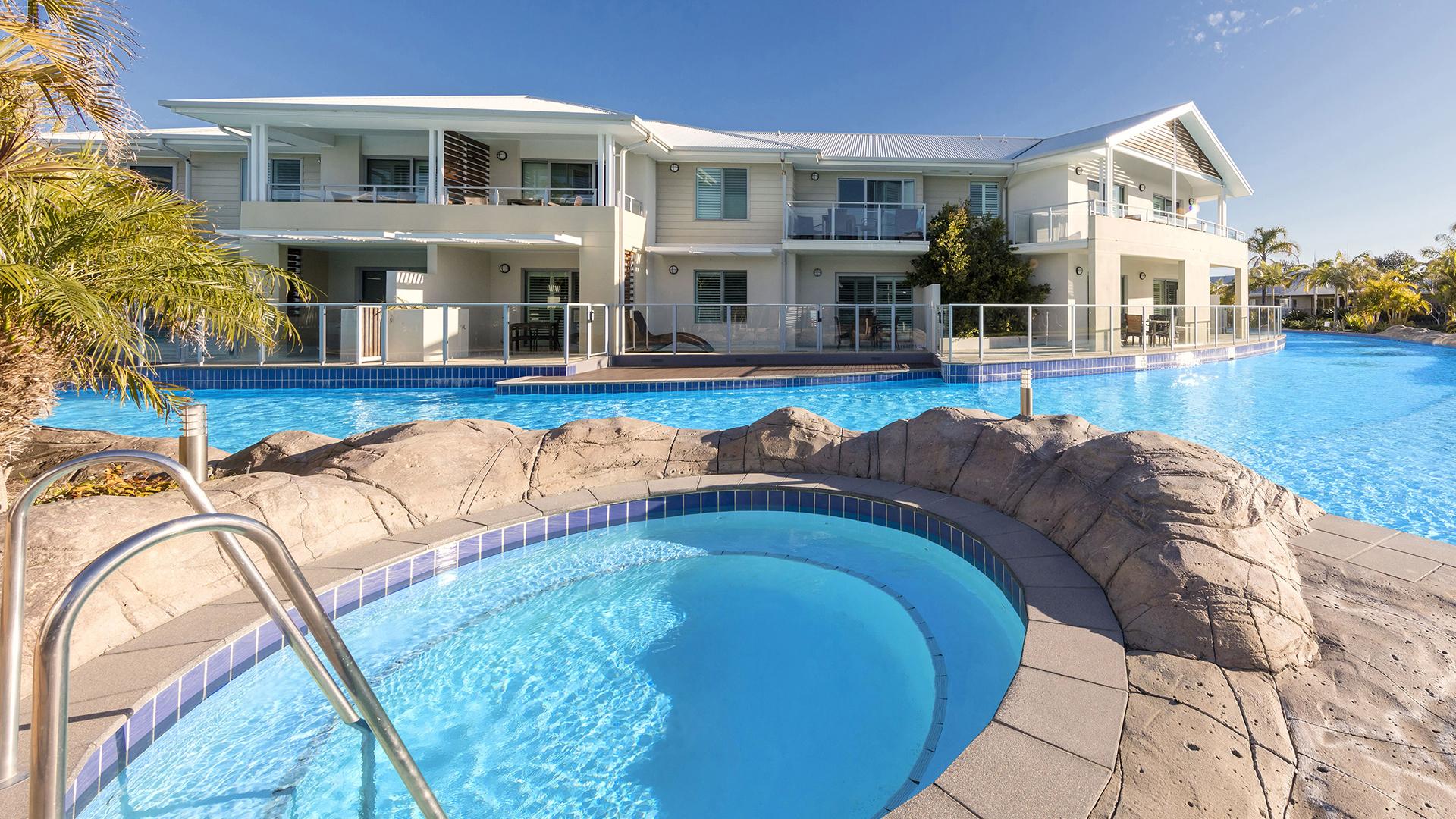 Port Stephens, New South Wales • view map
Oaks Port Stephens Pacific Blue Resort
Idyllic Oaks Resort Studio Stay in the Heart of Port Stephens

Escape to the most idyllic spot on New South Wales' coastline with a relaxing stay at Oaks Port Stephens Pacific Blue Resort — a convenient self-catering retreat with resort-style facilities, including an impressive lagoon pool. Enjoy a prime position to experience the region's tranquil bay, stunning natural surrounds, beautiful beaches and laidback coastal lifestyle.
Located a 2.5-hour drive from Sydney and less than an hours' drive from Newcastle, Port Stephens is blessed with everything you need for a relaxing escape with family and friends. Renowned for its spectacular natural scenery, white sand beaches, dramatic sand dunes plunging into clear aquamarine waters, as well as restaurants and boutique shops, this laid-back town promises something for everyone. Embark on an unforgettable swimming experience with dolphins in the open ocean, glide across the calm waters of the bay on a sunset cruise, or in the winter months, spot humpback whales migrating from Antarctica — a spectacular natural show.
Your handpicked inclusions:
Celebrate your escape with a welcome bottle of wine on arrival
Stay connected with complimentary Wi-Fi throughout your stay
Relax for longer with leisurely late 12pm checkout
Apartment Upgrade: Enjoy the luxury of a kitchen and laundry facilities when you upgrade to a One-Bedroom Lagoon Apartment for two.
Group Upgrade: If you are travelling with friends and family, the Two-Bedroom Lagoon Apartment, valid for up to four guests, is perfect for you.
Ultra-Luxe Upgrade: If you're looking for added space and luxury for up to six guests, upgrade to a Three-Bedroom Plunge Pool apartment.
holiday Options
Select your holiday type
COASTAL ESCAPE – TWO GUESTS
Studio Lagoon Room
Enjoy glistening pool views from your private balcony when you stay in this light-filled studio with plush bed, kitchenette and modern bathroom
Room Size: 33 m²
Inclusion highlights:
Bottle of wine on arrival
Complimentary Wi-Fi
12pm late checkout
Check-in: 2pm
Inclusions valid for up to two guests
APARTMENT UPGRADE – TWO GUESTS
One-Bedroom Lagoon
Take in sparkling lagoon views from your private balcony when you choose this spacious apartment complete with kitchen and luxe spa bath
Room Size: 66 m²
Inclusion highlights:
Bottle of wine on arrival
Complimentary Wi-Fi
12pm late checkout
Check-in: 2pm
Inclusions valid for up to two guests
GROUP UPGRADE – FOUR GUESTS
Two-Bedroom Lagoon
Located adjacent to the lagoon, this modern two-bedroom apartment features a kitchen, spacious living area and a private balcony or courtyard overlooking the pool
Room Size: 104 m²
Inclusion highlights:
Bottle of wine on arrival
Complimentary Wi-Fi
12pm late checkout
Check-in: 2pm
Inclusions valid for up to four guests
ULTRA-LUXE UPGRADE – SIX GUESTS
Three-Bedroom Plunge Pool
Plunge into your gorgeous private pool when you choose this split-level three-bedroom apartment featuring two modern bathrooms, a kitchen, single car garage and spacious lounge
Room Size: 144 m²
Inclusion highlights:
Bottle of wine on arrival
Complimentary Wi-Fi
12pm late checkout
Check-in: 2pm
Inclusions valid for up to six guests