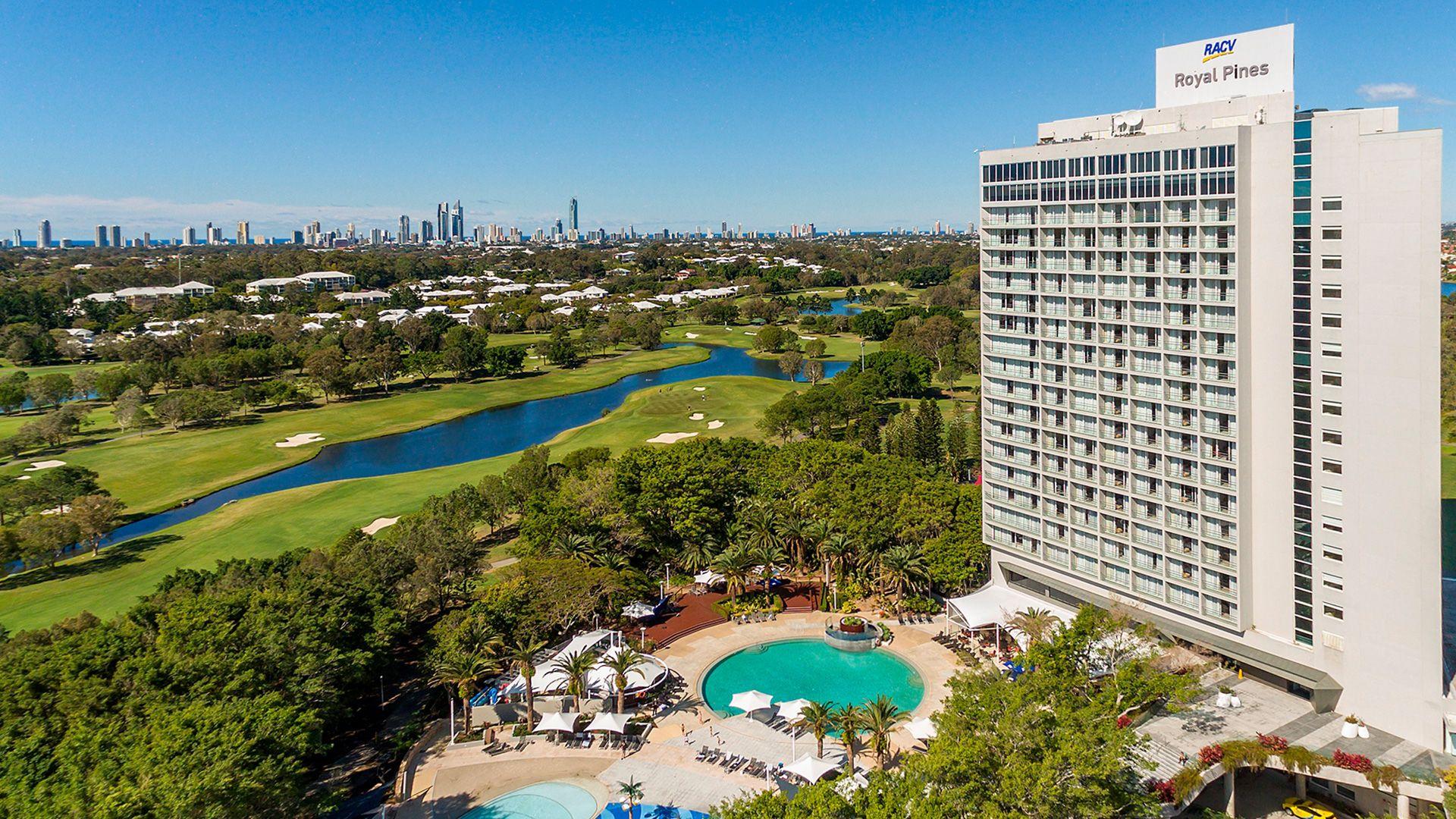 RACV Royal Pines Resort
Five-Star RACV Gold Coast Resort Stay with Dining Credit & Daily Breakfast

Beautiful beaches, endless entertainment and family-friendly fun await on the Gold Coast, home to the five-star RACV Royal Pines Resort – a luxury resort perfectly located between the sun-soaked sand and lush hinterland.
There's truly something for couples and family alike here, including a blissful day spa, three 18-hole golf greens (including a championship course), a wide range of bars and eateries, and a kids' water park. The resort is a short drive from Broadbeach and near popular attractions such as Surfers Paradise, Currumbin Wildlife Sanctuary, Robina Town Centre, an abundance of theme parks and Metricon Stadium, meaning the best of the Gold Coast is on your doorstep.
Your handpicked inclusions:
Guaranteed upgrade to a Superior Room
Delicious daily breakfast at Kalinda Restaurant
A$50 dining and drinks credit per package to spend at the resort's restaurants or bars
A$20 discount on green fees at RACV Royal Pines Championship Golf Course per stay
A$20 discount on treatments of 60+ minutes at One Spa per stay
One complimentary bottle of wine with the purchase of two main meals from onsite dining outlets (see the Fine Print for details)
Make the most of your stay with 12pm late checkout guaranteed
Enjoy the convenience of complimentary parking for one vehicle per stay
Complimentary Wi-Fi throughout your stay
Travelling with family? Select a family package and receive a room with two double beds. Up to two chidren (17 and under) stay free (accommodation only).
Executive Lounge upgrades available: Upgrade to enjoy access to the exclusive Executive Lounge on Level 21, where you'll be treated to daily breakfast, all-day refreshments and adults-only nightly canapés and drinks.
Extended stay bonus: Extend your stay to five nights to receive A$75 dining and drinks credit per package, or seven nights to receive A$100 dining and drinks credit per package.
RACV member bonus inclusions: RACV members can enjoy bonus inclusions such as guaranteed 2pm late checkout, tennis court hire, a coastal view room upgrade when available and more. See below for details.
holiday Options
Select your holiday type
Superior King Room
Soak up views across the lush green resort from your private balcony in this contemporary room, which offers all the modern comforts you might need
Room Size: 38 m²
Inclusion highlights:
Guaranteed upgrade to a Superior Room
Daily breakfast for two at Kalinda Restaurant
A$50 dining and drinks credit per package to spend at the resort
A$20 discount on green fees at RACV Royal Pines Championship Golf Course
A$20 discount on treatments of 60+ minutes at One Spa
One complimentary bottle of house wine on purchase of two main meals
Complimentary parking for one vehicle per stay
Complimentary Wi-Fi during your stay
Guaranteed 12pm late checkout
Check-in: 2pm
Inclusions valid for up to two adults
RACV Member offers:
Guaranteed 2pm late checkout
One hour of tennis court hire per stay
Upgrade to a coastal-view room, subject to availability
Exclusive member pricing on theme park tickets and other Gold Coast attractions through RACV Ticketing
GOLD COAST ESCAPE – FAMILY PACKAGE
Superior Twin Room
Experience double the contemporary elegance in this superior room, featuring two double beds for up to four guests with a private balcony and resort vistas
Room Size: 38 m²
Inclusion highlights:
Two children (17 and under) stay free (accommodation only)
Guaranteed upgrade to a Superior Room
Daily breakfast for two at Kalinda Restaurant
A$50 dining and drinks credit per package to spend at the resort
A$20 discount on green fees at RACV Royal Pines Championship Golf Course
A$20 discount on treatments of 60+ minutes at One Spa
One complimentary bottle of house wine on purchase of two main meals
Complimentary parking for one vehicle per stay
Complimentary Wi-Fi during your stay
Guaranteed 12pm late checkout
Check-in: 2pm
Inclusions valid for up to two adults
RACV Member offers:
Guaranteed 2pm late checkout
One hour of tennis court hire per stay
Upgrade to a coastal-view room, subject to availability
Exclusive member pricing on theme park tickets and other Gold Coast attractions through RACV Ticketing
Executive King Room
Admire stunning views across the resort's lush grounds from the comforts of this contemporary, beautifully refurbished room, which permits access to the Executive Lounge on Level 21
Room Size: 38 m²
Inclusion highlights:
Executive Lounge access with daily breakfast, all-day refreshments and nightly canapés and drinks
Daily breakfast for two at Kalinda Restaurant
A$50 dining and drinks credit per package to spend at the resort
A$20 discount on green fees at RACV Royal Pines Championship Golf Course
A$20 discount on treatments of 60+ minutes at One Spa
One complimentary bottle of house wine on purchase of two main meals
Complimentary parking for one vehicle per stay
Complimentary Wi-Fi during your stay
Guaranteed 12pm late checkout
Check-in: 2pm
Inclusions valid for up to two adults
RACV Member offers:
Guaranteed 2pm late checkout
One hour of tennis court hire per stay
Upgrade to a coastal-view room, subject to availability
Exclusive member pricing on theme park tickets and other Gold Coast attractions through RACV Ticketing
EXECUTIVE UPGRADE – FAMILY PACKAGE
Executive Twin Room
Take the whole family on a next-level escape in this beautifully refurbished room, featuring twin double beds and access to the Executive Lounge on Level 21
Room Size: 38 m²
Inclusion highlights:
Executive Lounge access for two with daily breakfast, all-day refreshments and nightly canapés and drinks
Two children (17 and under) stay free (accommodation only)
Daily breakfast for two at Kalinda Restaurant
A$50 dining and drinks credit per package to spend at the resort
A$20 discount on green fees at RACV Royal Pines Championship Golf Course
A$20 discount on treatments of 60+ minutes at One Spa
One complimentary bottle of house wine on purchase of two main meals
Complimentary parking for one vehicle per stay
Complimentary Wi-Fi during your stay
Guaranteed 12pm late checkout
Check-in: 2pm
Inclusions valid for up to two adults
RACV Member offers:
Guaranteed 2pm late checkout
One hour of tennis court hire per stay
Upgrade to a coastal-view room, subject to availability
Exclusive member pricing on theme park tickets and other Gold Coast attractions through RACV Ticketing