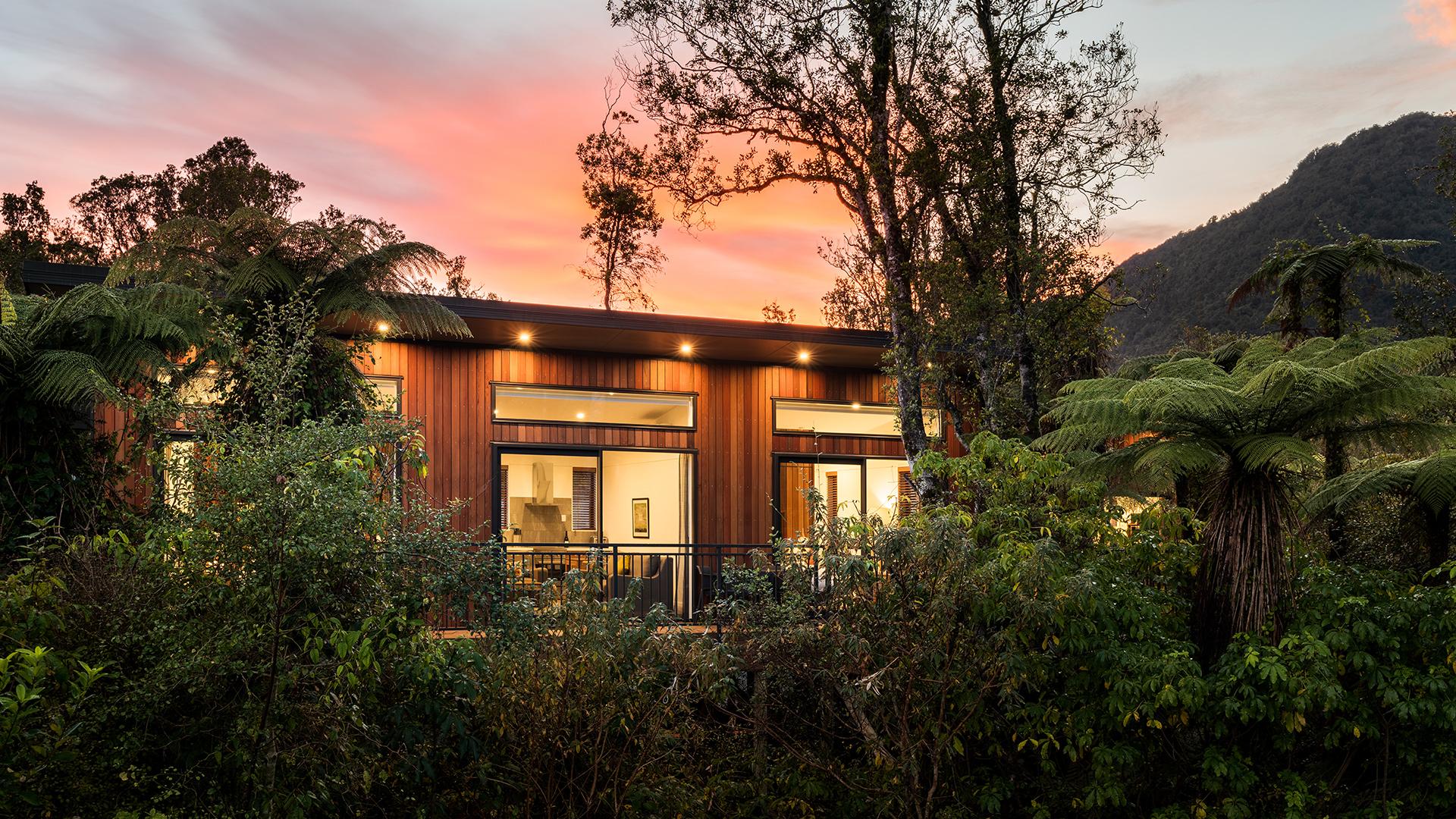 Rainforest Retreat
Serene Franz Josef Rainforest Treehouse Escape with Daily Breakfast Hamper & Nightly Drinks

Be prepared for New Zealand to steal your heart as you experience life among the rainforest-clad foothills of the Southern Alps with a calming stay at Rainforest Retreat, nestled in the alpine village of Franz Josef. From breathtaking glaciers and peaceful lagoons to majestic mountains and pristine lakes, this secluded sanctuary is surrounded by unparalleled nature within a UNESCO World Heritage-listed area.
There is no better way to experience the flora and fauna at your doorstep than a stay within one of the retreat's self-contained havens. Feel at one with nature as you're suspended above the lush rainforest canopy, where you can breathe in the fresh alpine air from your hut's expansive deck area and quiet your mind in the rainforest shower ensuite.
When adventure calls, take time to visit iconic sights and lesser-known gems hidden throughout New Zealand's glacier country and along the wild West Coast. Take to the water and embark on a kayaking adventure with white herons on Ōkārito Lagoon, marvel at Lake Mapourika's shimmering surface, discover the powdered slopes of Franz Josef Glacier or Fox Glacier on a guided walk, or enjoy a change of pace with a horseback tour (surcharges apply).
Your handpicked inclusions:
Wake to a daily continental breakfast hamper filled with locally sourced goods
Celebrate each day of adventure with one nightly drink per adult
Indulge with NZ$50 food and drinks credit per package to use at Monsoon Restaurant + Bar
Rest east with guaranteed 11.30am late checkout
Group Spa Upgrade: Take in the serenity from the comfort of your private balcony and soak in the outdoor hot tub when you book the Deluxe Spa Tree House, valid for up to four guests. Bonus Inclusion: Upgrade to this two-bedroom, two-bathroom haven to receive NZ$75 food and drinks credit per package.
holiday Options
Select your holiday type
SECLUDERD RAINFOREST CABIN HIDEAWAY
Deluxe Tree Hut
Set among the dense rainforest canopy, the Deluxe Tree Hut is the place where unrivalled luxury and superb views meet, with incredible facilities like a large ensuite, stylish kitchenette and all the modern comforts
Room Size: 25 m²
Inclusion highlights:
Daily continental breakfast hamper for two
One nightly drink per adult at Monsoon Bar + Restaurant
NZ$50 food and drinks credit per package to use at Monsoon Restaurant + Bar
Guaranteed 11.30am late checkout
Check-in: 3pm
Inclusions valid for up to two guests
Deluxe Tree Lodge
Immerse yourself in nature and take in the views from your spacious deck, relax on your plush bedding and feel reinvigorated as you step into the large ensuite complete with a deluxe rain shower
Room Size: 40 m²
Inclusion highlights:
Daily continental breakfast hamper for two
One nightly drink per adult at Monsoon Bar + Restaurant
NZ$50 food and drinks credit per package to use at Monsoon Restaurant + Bar
Guaranteed 11.30am late checkout
Check-in: 3pm
Inclusions valid for up to two guests
Deluxe Spa Tree House
Alpine ambience awaits in this incredible two-bedroom, two-bathroom abode, complete with a private outdoor hot tub on the deck that overlooks the lush surrounds, along with heavenly bedding, a fully equipped kitchen and lounge area
Room Size: 75 m²
Inclusion highlights:
NZ$75 food and drinks credit per package to use at Monsoon Restaurant + Bar
Daily continental breakfast hamper for four
One nightly drink per adult at Monsoon Bar + Restaurant
Guaranteed 11.30am late checkout
Check-in: 3pm
Inclusions valid for up to four guests