1 to 30 Nights
packages available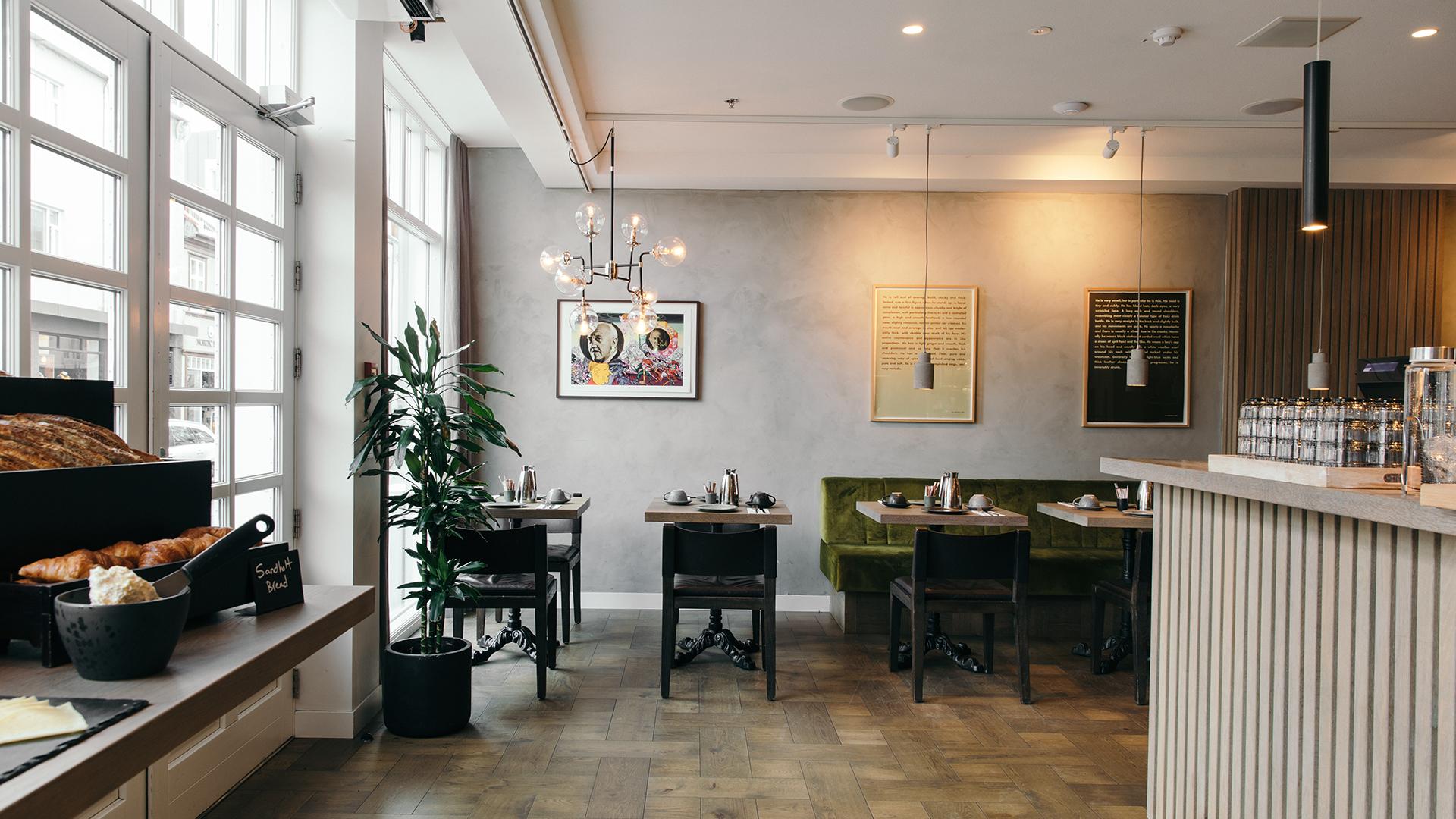 Sand Hotel by Keahotels
Historic Reykjavik Boutique Break with Daily Breakfast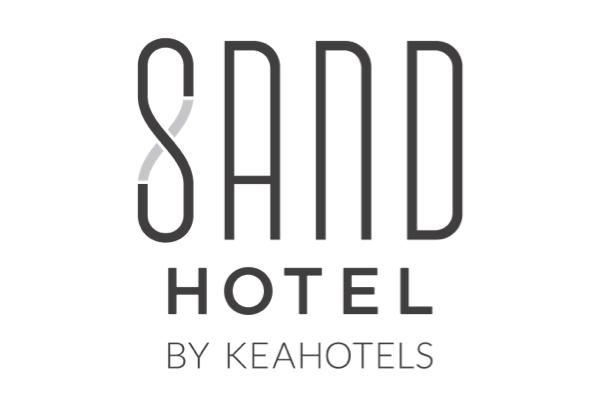 Discover historic and hip Reykjavik with a stay at the contemporary Sand Hotel by Keahotels. This unique boutique escape neighbours three of the city's most famous historic buildings: Iceland's oldest tailor, Verslun Guðsteins Eyjólfssonar; one of the city's best bakeries, Sandholt; and the birthplace of Nobel-Prize-winning writer Halldór Laxness. All this history also happens to be perched on the city's buzzing shopping strip, Laugavegur, surrounded by restaurants, cafés, boutiques and bars. Famous attractions, like the Hallgrímskirkja church, are also just a short wander away.
The hotel's unique history is showcased with pride at Sand Hotel. In the lobby, a number of Laxness' books sit beside contemporary photographs and paintings by local artists. In the rooms and suites, headboards and pillows are upholstered with fabric from Verslun Guðsteins Eyjólfssonar, while freshly baked goods from Sandholt make up part of the hotel's satisfying breakfast spread. While leaving your bed's embrace may seem impossible, the resolute will be rewarded – there are countless day trips to embark upon, and plenty of city highlights to discover.
Luxury Escapes inclusions (select packages/nights)
Prepare for a busy day ahead with daily breakfast, including freshly baked treats from Sandholt
Savour every second of your Reykjavik adventure with 2pm late checkout (for stays of 2+ nights)
Enjoy an upgrade to the next room category, subject to availability (excludes Family Rooms; for stays of 4+ nights)
Travelling with family? Separate sleeping alcoves offer a little more privacy in the Family Room, complete with a king and queen bed. Packages valid for up to four guests.
1 to 30 Nights packages available
holiday Options

Select your holiday type
Small Double Room
It's the small touches that elevate the Small Double – the buttoned fabric headboard and pillows are made by the tailor next door and artworks come courtesy of local artists
Size: 18 m²
Option 1
CITY-CENTRE STAY (NON-REFUNDABLE)
Daily breakfast at the onsite restaurant
Check-in: 3pm / Checkout: 12pm
Inclusions valid for up to two adults
Option 2
CITY-CENTRE STAY (REFUNDABLE)
Daily breakfast at the onsite restaurant
Check-in: 3pm / Checkout: 12pm
Inclusions valid for up to two adults
Double Standard Room
Convenient comfort sets the tone for the Double Standard, where a plush bed gives way to a luxe ensuite bathroom, illuminated by natural light
Size: 20 m²
Option 1
DOUBLE STANDARD UPGRADE (NON-REFUNDABLE)
Daily breakfast at the onsite restaurant
Check-in: 3pm / Checkout: 12pm
Inclusions valid for up to two adults
Option 2
DOUBLE STANDARD UPGRADE (REFUNDABLE)
Daily breakfast at the onsite restaurant
Check-in: 3pm / Checkout: 12pm
Inclusions valid for up to two adults
Superior Double Room
Art Deco elegance meets modern facilities in the Superior Double, with details like a Marshall Bluetooth speaker, tailored textures and slick ensuite bathroom with rain shower
Size: 24 m²
Option 1
SUPERIOR DOUBLE UPGRADE (NON-REFUNDABLE)
Daily breakfast at the onsite restaurant
Check-in: 3pm / Checkout: 12pm
Inclusions valid for up to two adults
Option 2
SUPERIOR DOUBLE UPGRADE (REFUNDABLE)
Daily breakfast at the onsite restaurant
Check-in: 3pm / Checkout: 12pm
Inclusions valid for up to two adults
Superior Twin Room
Cosy comforts abound in the Superior Twin, with snuggle-worthy bathrobes, deluxe twin beds and a Nespresso machine for your morning coffee
Size: 24 m²
Option 1
SUPERIOR TWIN UPGRADE (NON-REFUNDABLE)
Daily breakfast at the onsite restaurant
Check-in: 3pm / Checkout: 12pm
Inclusions valid for up to two adults
Option 2
SUPERIOR TWIN UPGRADE (REFUNDABLE)
Daily breakfast at the onsite restaurant
Check-in: 3pm / Checkout: 12pm
Inclusions valid for up to two adults
Junior Suite
Spread out in your spacious Junior Suite, complete with a separate seating area and open cupboards for hanging winter coats and scarves
Size: 30 m²
Option 1
JUNIOR SUITE UPGRADE (NON-REFUNDABLE)
Daily breakfast at the onsite restaurant
Check-in: 3pm / Checkout: 12pm
Inclusions valid for up to two adults
Option 2
JUNIOR SUITE UPGRADE (REFUNDABLE)
Daily breakfast at the onsite restaurant
Check-in: 3pm / Checkout: 12pm
Inclusions valid for up to two adults
Suite
Snuggle up in style in the Suite, where Egyptian-cotton-covered beds stay warm throughout Icelandic winters and heated bathroom floors lead the way to the large rain shower
Size: 39 m²
Option 1
SUITE UPGRADE (NON-REFUNDABLE)
Daily breakfast at the onsite restaurant
Check-in: 3pm / Checkout: 12pm
Inclusions valid for up to two adults
Option 2
SUITE UPGRADE (REFUNDABLE)
Daily breakfast at the onsite restaurant
Check-in: 3pm / Checkout: 12pm
Inclusions valid for up to two adults
Sand Suite
Expect apartment-style living in the Sand Suite, where an open-plan kitchen and living space give way to a large bedroom and ensuite master bathroom
Size: 78 m²
Option 1
SAND SUITE UPGRADE (NON-REFUNDABLE)
Daily breakfast at the onsite restaurant
Check-in: 3pm / Checkout: 12pm
Inclusions valid for up to two adults
Option 2
SAND SUITE UPGRADE (REFUNDABLE)
Daily breakfast at the onsite restaurant
Check-in: 3pm / Checkout: 12pm
Inclusions valid for up to two adults
Family Room
There's room for travellers of all sizes in the Family Room, with separate sleeping alcoves flooded by natural light and a marble bathroom
Size: 22 m²
Option 1
FAMILY UPGRADE (NON-REFUNDABLE)
Daily breakfast at the onsite restaurant
Check-in: 3pm / Checkout: 12pm
Inclusions valid for up to four guests
Option 2
FAMILY UPGRADE (REFUNDABLE)
Daily breakfast at the onsite restaurant
Check-in: 3pm / Checkout: 12pm
Inclusions valid for up to four guests