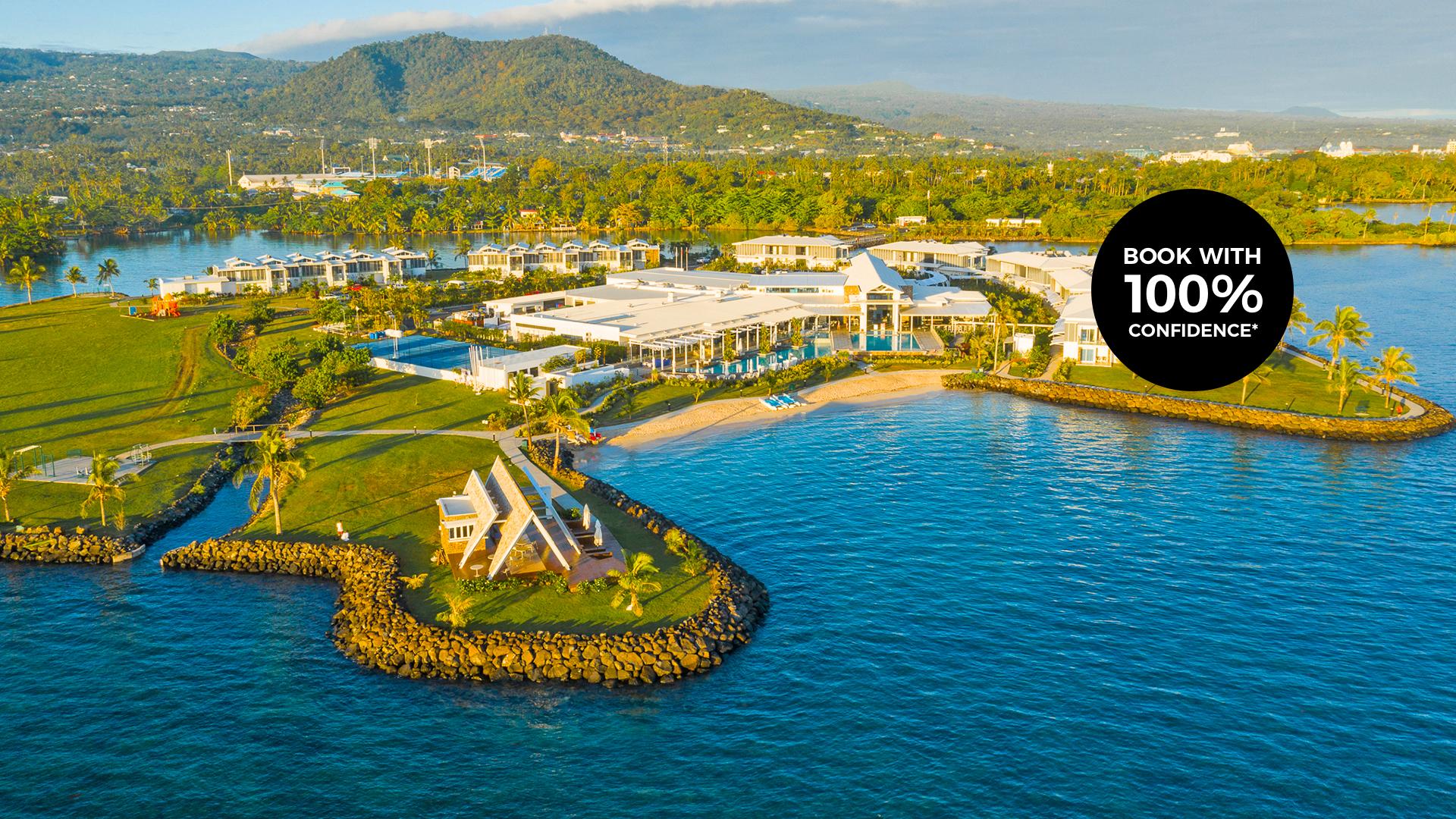 Taumeasina Island Resort
Secluded Samoa Private Island Escape with Decadent Dining & Massages

Escape it all and embrace the tropical paradise of Samoa, a jewel in the Pacific Ocean. Soak up breathtaking mountain and ocean views from Taumeasina Island Resort, nestled on its own private island, just off the coast of the mainland – only a five-minute drive from the vibrant capital of Apia.
Indulge at one of three restaurants onsite, take a dip in the cascading swimming pool, treat yourself at Fofo Spa & Sauna and immerse yourself in Polynesian culture with traditional fire-dancing evenings. When you're ready to explore beyond the resort, go in search of Samoa's waterfalls and the To-Sua Ocean Trench, a picturesque swimming hole trimmed with verdant greenery on the southeast coast of Upolo Island.
Your handpicked inclusions:
Fuel up for a fun-filled day with daily breakfast at Lapita Restaurant
Embark on a delicious culinary adventure with one poolside lunch for two
Enjoy a one-time romantic two-course dinner for two
Celebrate with a special one-time buffet dinner and fiafia fire dance show for two
Let yourself truly indulge with one delicious buffet dinner for two
Transcend into total bliss with eight relaxing 30-minute massages per package
Toast your stay with a daily cocktail or beer per adult at Sunset Bar
Arrive in style with roundtrip airport transfers
Stay connected with unlimited Wi-Fi for up to three devices
Travelling with family? Select a Double Room with two double beds, and up to two children (11 years and under) stay free, with daily breakfast and transfers included.
Need more room? The Waterfront Two-Bedroom Villa package for four guests is perfect for groups. Enjoy direct access to the resort's private beach, a fully equipped kitchen, two bedrooms, one bathroom, a living room and private balcony overlooking the lagoon and mountains of Upolu Island.
Book with 100% Confidence: If for whatever reason you don't want to go on your holiday, you can cancel right up to 14 days before check-in and get a 100% credit to use at Luxury Escapes for any other accommodation offer. Excludes flights, see the Fine Print for details.
holiday Options
Select your holiday type
Oceanview Room King
Enjoy the light, airy space of an Oceanview Room with modern facilities and views of the Pacific Ocean
Room Size: 26 m²
Inclusion highlights:
Daily breakfast at Lapita Restaurant
One poolside lunch for two
One romantic two-course dinner for two
One-time buffet dinner and fifia fire dance show for two
One delicious buffet dinner for two
Eight relaxing 30-minute massages per package
Daily cocktail or beer per adult at Sunset Bar
Roundtrip airport transfers
Unlimited Wi-Fi for up to three devices
Check-in: 2pm / Checkout: 11am
Inclusions valid for up to two guests
ISLAND ESCAPE (TWO DOUBLES)
Oceanview Room Double
Enjoy the light, airy space of an Oceanview Room with modern facilities and views of the Pacific Ocean
Room Size: 26 m²
Inclusion highlights:
Up to two children (11 and under) stay free on existing bedding with breakfast and transfers
Daily breakfast at Lapita Restaurant
One poolside lunch for two
One romantic two-course dinner for two
One-time buffet dinner and fifia fire dance show for two
One delicious buffet dinner for two
Eight relaxing 30-minute massages per package
Daily cocktail or beer per adult at Sunset Bar
Roundtrip airport transfers
Unlimited Wi-Fi for up to three devices
Check-in: 2pm / Checkout: 11am
Inclusions valid for up to two guests
Deluxe Oceanvew King
Wake to the peaceful sounds of waves gently breaking on the shore from the Deluxe Oceanvew King, located closer to the water
Room Size: 26 m²
Inclusion highlights:
Daily breakfast at Lapita Restaurant
One poolside lunch for two
One romantic two-course dinner for two
One-time buffet dinner and fifia fire dance show for two
One delicious buffet dinner for two
Eight relaxing 30-minute massages per package
Daily cocktail or beer per adult at Sunset Bar
Roundtrip airport transfers
Unlimited Wi-Fi for up to three devices
Check-in: 2pm / Checkout: 11am
Inclusions valid for up to two guests
DELUXE UPGRADE (TWO DOUBLES)
Deluxe Oceanview Double
Wake to the peaceful sounds of waves gently breaking on the shore from the Deluxe Oceanvew Double, located closer to the water
Room Size: 26 m²
Inclusion highlights:
Up to two children (11 and under) stay free on existing bedding with breakfast and transfers
Daily breakfast at Lapita Restaurant
One poolside lunch for two
One romantic two-course dinner for two
One-time buffet dinner and fifia fire dance show for two
One delicious buffet dinner for two
Eight relaxing 30-minute massages per package
Daily cocktail or beer per adult at Sunset Bar
Roundtrip airport transfers
Unlimited Wi-Fi for up to three devices
Check-in: 2pm / Checkout: 11am
Inclusions valid for up to two guests
TWO-BEDROOM VILLA UPGRADE
Waterfront Two-Bedroom Villa
A private oasis for you and your loved ones with direct access to the resort's private beach, a fully equipped kitchen, two bedrooms, one bathroom, a living room and private balcony overlooking the lagoon and mountains of Upolu Island
Room Size: 58 m²
Inclusion highlights:
Ten relaxing 30-minute massages per package
One complimentary bottle of wine and tapas platter
Daily breakfast at Lapita Restaurant
One poolside lunch for four
One romantic two-course dinner for four
One-time buffet dinner and fifia fire dance show for four
One delicious buffet dinner for four
Daily cocktail or beer per adult at Sunset Bar
Roundtrip airport transfers
Unlimited Wi-Fi for up to three devices
Check-in: 2pm / Checkout: 11am
Inclusions valid for up to four guests